DukeEngage Dublin
DukeEngage Dublin is a collaboration between the Kenan Institute for Ethics, DukeEngage, and more than a half dozen community based organizations in Ireland grappling with migrant and refugee issues.

Each summer eight students spend eight weeks in one of the most dynamic and increasingly diverse cities in Europe. Students are placed in small organizations that work on a range of issues. Some placements are about direct service — working with unaccompanied minor refugees as they transition to a life in Ireland, designing and running a summer civic engagement program that brings together both disadvantaged Irish and migrants, or choreographing and performing a dance at a local festival. Some placements are about community organizing and creating the infrastructure necessary to support the successful integration of migrant and refugees into Irish society — designing a dental hygiene outreach program for migrant children, setting up a citizenship application clinic, or providing gender violence workshops for refugee women. And some placements are about advocacy and policy making — writing for Ireland's leading multicultural newspaper, Metro Eireann, developing new national legislation regarding female genital mutilation, or helping design local migrant councils to create a mechanism for migrant and refugee concerns to be heard and addressed.
But wherever they are placed, the goal for students is not simply to participate but to undertake projects that could simply not have happened without student leadership, energy and insight. Students deploy their skills in ways they never could have anticipated. They expand their sense of the possible in ways only their fellow participants will ever fully understand. For many Dublin becomes their second home. And the results are often extraordinary. In the process students come to understand both the ethical challenges of global migration and the often profound impediments to sustainable community-based change, all while having more fun than they ever could have imagined.
Publications and Output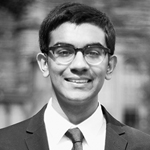 Saheel Chodavadia is a rising sophomore from Austin, Texas interested in majoring in Economics and Psychology with an Experiential Ethics Certificate. Saheel enjoys citruses (specifically limes), cooking, and owns a competitive spice collection.
Mary Aline Fertin is a rising junior from Toulouse, France. She is an aspiring attorney majoring in Public Policy with a certificate in Human Rights. Mary Aline loves to ride horses and serves as a financial advocate for Durham residents.
Steve Hassey is a rising junior from Cincinnati, Ohio, majoring in Public Policy Studies with certificates in Ethics and Policy Journalism and Media Studies. On campus, he is involved in Duke Democrats, Duke Student Government, and the Line Monitors. He co-ran the "You Don't Say?" campaign and is interested in how language affects lived social experience. In his free time, he enjoys hiking, watching every Disney movie in existence, and eating what many would deem too much ice cream.
Shweta Lodha is a rising junior from Long Island, New York, studying Neuroscience and Global Health. Shweta enjoys learning about the many ways that healthcare is delivered and can be enhanced in diverse communities. In her spare time, Shweta enjoys hiking, singing classical music, and researching.
Bill McCarthy is a rising junior from Medfield, Massachusetts, majoring in Public Policy with a certificate in Policy Journalism and Media Studies. Bill enjoys keeping up with the news, visiting the beach, and cheering on Duke basketball.
Hannah Palczuk is a rising sophomore from West Chester, Pennsylvania. She is planning on majoring in Global Cultural Studies and French. Hannah likes to read, watch cheesy movies with her friends, and attempt to memorize as many Hamilton lyrics as possible.
Naod Sebhatleab is a rising junior from San Francisco, California. He is majoring in Public Policy Studies and working towards a certificate in Markets and Management. Naod enjoys curating playlists and watching documentary films.
Caroline Wang is a rising junior from Cary, North Carolina. She is majoring in Public Policy and Psychology, with a minor in Education. In her free time, Caroline enjoys running, listening to NPR podcasts, and journaling in coffee shops. She is on a mission to try every Ben & Jerry's flavor available to the public.
For more information, contact faculty director Suzanne Shanahan.
For more on the program from the participants themselves, watch "What is Discover University?"