Same Certificate, Different Paths: Exploring Ethics through Courses and Experiential Learning
The Kenan Institute for Ethics offers an undergraduate Certificate in Ethics & Society with two pathways: course-based and experiential. Read about how the certificate and other programs at Kenan shaped the experiences of two graduating seniors.
Course-based Pathway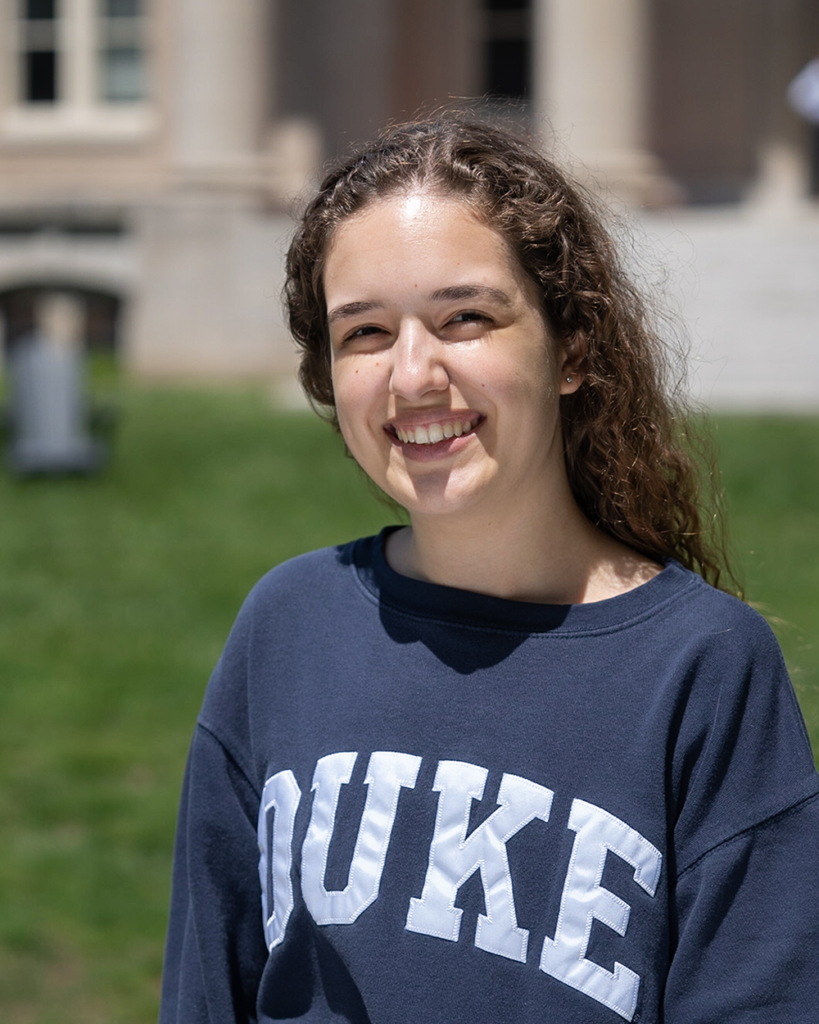 During the first semester of her freshman year, Sarai Chaidez found that Ethics 101, "The Challenges of Living an Ethical Life," piqued her interest in philosophers that she'd never heard of before.
"I had not taken any kind of theoretical or philosophical course in high school," she said. "That was not an option for me."
Chaidez came to Duke as a first-generation, low-income student. "I experienced imposter syndrome very quickly," she said, "culture shock, et cetera. So that was definitely a difficult transition for me at the beginning."
Chaidez took Ethics 101 because it sounded interesting to her. She only found out later that it was the Gateway course for the Ethics & Society Certificate. She eventually fulfilled the requirements for the certificate's course-based pathway by continuing to enroll in courses that she found compelling.
She joined a "What Now?" seminar the following semester. A program of the Kenan Institute for Ethics, "What Now?" pairs first-year seminar courses exploring purpose and well-being with a half-credit Common Experience that offers students resources for intellectual growth. Chaidez's "What Now?" seminar was on evolution, and it raised interesting questions about what it means to be a human being.
She gravitated towards classes that were listed as "EI" — Ethical Inquiry, one of the six modes of inquiry in the undergraduate curriculum. "Almost all of my classes have those [designations]…all of my classes are typically discussion-based and provoke very interesting questions about readings."
These courses also helped to restore her confidence as a student at an institution like Duke. "What helped me was those discussion courses," she said. "I'm so glad that I've been able to learn how to articulate myself through discussion and how to be more opinionated, but not in a bad way.
"I connected with a lot of amazing professors and people that I could be comfortable around and be vulnerable with. I don't think that that's something you can really find everywhere, and that in part makes Duke very special to me."
Chaidez chose to major in Political Science. She concentrated on Political Behavior and Identities, which explores how and why people subscribe to certain ideologies or identities. At the same time, she became more interested in exploring different perspectives and ideas.
"I think the perception with Political Science is that it's very argumentative in nature, and while there's definitely a time and place for that, that has certainly not been my approach. I don't think that that's really a sustainable way to have conversation. Having classes with that EI component really helped me to be exploratory in my conversations as opposed to getting an argument across."
As part of the Ethics certificate, she also took Religious Studies courses that enabled her to think more deeply and critically about her faith.
"I actually grew up Christian myself, and coming to college was the first time that I was able to explore what I really believed on my own, instead of having ideas about religion presented to me. I took those classes to learn more theologically what the foundations of my actual beliefs are, and maybe those beliefs have changed a little bit, and that's okay."
"I think that's what gravitated me towards this certificate and my classes: just finally having the outlet in my life to be able to ask these fundamental questions. I didn't really have that kind of opportunity growing up, and that's not exclusive to religion. Everything was just sort of 'Here is the answer.' No questions asked."
In her capstone course, which focuses on ethics and neuroscience, Chaidez wrote on neurolaw, particularly the use of neuroscientific evidence in insanity defense cases. "What are the legal and ethical implications of using different kinds of neuroscientific imaging [in court]?" She plans to work in the legal non-profit sphere in Washington, D.C., before applying to law school.
Chaidez says that pursuing the Ethics & Society Certificate helped her to become more comfortable with uncertainty, and to embrace challenging questions with a sense of curiosity rather than pushing aside new possibilities with foregone conclusions.
"There is no direct answer to these really difficult questions," she said. "That is the struggle – and beauty – of ethics."
Experiential Pathway
When Lana Gesinsky was admitted to Duke, she planned to be a pre-med student, but the first time she loaded up her shopping cart on DukeHub with courses that "sounded interesting" – international relations, political psychology, and the FOCUS cluster in Ethics, Leadership & Global Citizenship – she thought, "Maybe pre-med isn't for me."
Instead of enrolling in organic chemistry, Gesinsky applied to FOCUS.
A program for incoming first-years, FOCUS brings together students in clusters of courses on a shared theme. Students also share residential space, go on a trip together, participate in service-learning opportunities, and have group dinners with faculty members.
"I really liked the Ethics FOCUS," Gesinsky said. "It made my freshman year. I made my best friends from it. It gave me a sense of community, having smaller classes. All my other friends were in huge lecture classes. It didn't really feel like their professors knew their name, and here I was, getting dinner paid for."
As part of FOCUS, Gesinsky took a course on refugee rights and resettlement with former Kenan Institute of Ethics director Suzanne Shanahan. This led to her involvement with Launch Lab, which would later be called Citizenship Lab – a program that paired Duke student mentors with children from refugee families.
Mentoring through Citizenship Lab became one of most important experiences in Gesinsky's Duke career. "Every Tuesday, for multiple hours, you would meet with your kid. You would do a group activity, play outside, do an arts and crafts, and then you would help them with their homework, and then the buses would take them back.
"It was really cool, because half the time we were learning about refugees and resettlement, and the other half we were actually connecting with refugees in the area. I've continued doing that program ever since. I do it every Tuesday and I've worked with the same girl since my freshman year. She's my favorite person in the world."
She was already logging a lot of hours through Citizenship Lab, so Gesinsky decided to pursue the experiential pathway for the Ethics and Society Certificate. While coursework is always an important component of the certificate, research and community-based field experiences also count towards its requirements.
In 2020, Gesinsky planned on embarking on another community engagement project when she applied to DukeEngage: Cape Town. In DukeEngage, students and communities collaborate on projects addressing critical social issues. Usually, students travel to their program sites, but DukeEngage temporarily shifted to an online program after the COVID-19 pandemic restricted international travel.
Gesinsky worked with the Scalabrini Centre of Cape Town to tutor and mentor adult refugees who were pursuing bachelor's degrees. The only available method of communication was WhatsApp. It was a challenge, she said, and she wasn't sure what kind of impact she was having. But at the end of the summer, many of her students sent her messages about how much they appreciated her help.
Gesinsky explored another Kenan Institute for Ethics offering in Pursuing Purpose, a program that pairs a spring semester course with funding for a summer internship. Students develop their personal senses of purpose through the course and use the internship to explore a career path that they think could lead to the kind of life they want.
"We did classes on love, and how much money you think you want to make, and balancing compensation with enjoying your job, and that class just made me think about things that I never thought of," said Gesinsky. "I think Duke gives you so little time to actually think about what you want your future look like beyond your career, and reflect on your happiness, and how it's going, and that was the main purpose of the class."
Interested in exploring more career possibilities post-graduation, Gesinsky decided to go into consulting because it provides exposure to many different fields.
For Gesinsky, the Ethics & Society Certificate integrated beautifully with her Political Science major and Psychology minor. "I'm seeing so much overlap, and I'm constantly bringing something I learned from one realm and putting it into the other realm, which I think is awesome. It's genuinely that interdisciplinary."
She appreciates having the chance to think deeply about ethics throughout her Duke career, instead of isolated class sessions here and there. "I feel like ethics are usually just one day in a class. It's like, we're talking about a field, and we'll talk about ethics for one day. But ethics should be a prolonged conversation."