Intro to Social Choreography: Book, Podcast Help Define Emerging Field of Practice
Duke University is known for innovation in the sciences, but as the world's foremost site for social choreography, it's also an innovator in the arts.
The Laboratory for Social Choreography has its institutional home at the Kenan Institute for Ethics at Duke University. It is connected to Duke's experimental MFA in Dance: Embodied Interdisciplinary Praxis and serves as an incubator for graduate student research.
But how does one perform research in dance? What is social choreography, anyway?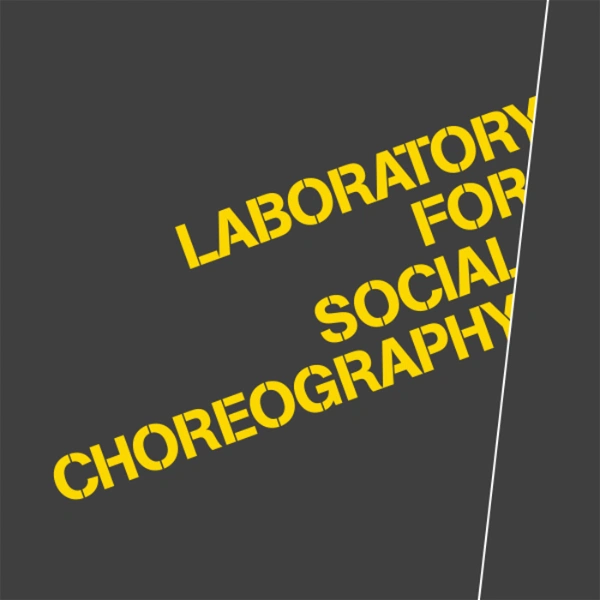 Exploring Social Choreography with One of its Founders
"I would say social choreography is a kind of imaginative framework," said Steve Valk. "It's a concept that has moved the choreography, the theater [out of the proscenium arches.] You are now in it. The observer is in the choreography."
As part of an oral history of social choreography, the Laboratory for Social Choreography commissioned a four-part podcast by arts journalist Luke Clancy on the career of dramaturg Steve Valk for his 60th birthday in 2022. The podcast is available on all major platforms.
In the podcast's first episode, Valk helps orient the listener to what social choreography is and what it isn't.
What it is: a set of instructions or other conditions that shape the interactions between a group of participants within a predetermined time and space. This creates "a close, focused situation…to really deeply study consciousness or the unconscious."
What it isn't: art that hangs on the walls of a museum, art for the elite, or "art for art's sake."
"It's art as a way of seeing, and a way of reflecting and creating meaning," said Valk. "It also becomes practically useful to everyday life. It's meant to be a tool for the general betterment of everyone and everything."
Valk says that social choreography meets an urgent need: global crises, borne by the exploitation of the planet's resources, require us to "fundamentally change the way we think." Social choreographic practices can create a culture of deep reflection and innovation, and ultimately help us to develop a more sustainable way of life.
Writing about the Inexpressible 
"Parliament" is a pioneering work of social choreography by Michael Kliën, Professor of the Practice of Dance at Duke University and Director of the Laboratory for Social Choreography.
For anywhere from three to six hours, Parliament participants inhabit the same space. They do not speak to one another. They are advised not to lean against the walls. They cannot look at their phones, play with their shoes, or otherwise distract themselves from the experience.
This causes a new field of perception to open: an awareness of oneself, one's body, the bodies of others, and the tensions and relationships between them.
No one does much during the first 45 minutes of Parliament, but gradually, over a period of hours, participants begin to communicate with each other through movement and sound, forming an improvised community.
At its heart, Parliament is a utopian enterprise. Participants often tell Kliën that they had profound experiences.
In "A Permanent Parliament: Notes on Social Choreography" (Martin E. Segal Theatre Center, CUNY Graduate Center, 2022) artist and writer Cory Tamler works with Kliën to do the seemingly impossible: to write a book about an experience that defies a singular interpretation, a linear structure, or even words themselves.
"It has to sit in a framework of ideas," Kliën suggests at the outset. The book creates that framework through a series of brief episodes exploring different facets of the work. Speculations on the work's theoretical underpinnings, excerpts from unfolding conversations between Tamler and Kliën, and abstract drawings and testimonies from Parliament participants offer the reader multiple forms of experience.
The book draws our attention to our own embodied state by nudging towards a physical interaction: the conversation between Tamler and Kliën is printed perpendicular to the book's spine, so turning the book on its side is the only way to read it. Other formal aspects of the book create a more heightened awareness of our own consciousness. Empty space on the pages creates open ranges for our imaginations to wander. Drawings offer a respite from language and analysis and shift us towards feeling and perception. The text often gestures towards questions that it doesn't resolve; instead, it leaves them with us.
As a result, instead of simply describing an experience, the book is one. Like Parliament, it begins to break down mental barriers that keep us locked into doing things — for instance, reading a book from start to finish — in a certain way. And though it describes an experience that we may or may not have shared, the book is accessible without seeming reductive.
"A Permanent Parliament: Notes on Social Choreography" is available for purchase online. The Laboratory for Social Choreography also plans to make the book available for purchase at its upcoming public events at Duke University.
Moving is Thinking: Learn With Your Body
Though these publications provide entry points into understanding social choreography, perhaps the best way to learn about it is to do it.
Join the Laboratory for Social Choreography for Amendment on Tuesday, March 28, 2023, or Constitution on April 17 and 18, 2023. Sign up for their mailing list to hear about future events, including the annual Parliament.