The 2019-20 Religions and Public Life Graduate Student Working Group has been meeting monthly to discuss developing projects under the theme of "Church and State." This year's cohort includes ten master's and doctoral students, representing nine different departments and degree programs, three schools, and two universities (Duke and UNC).
The program gives students practice presenting their material to scholars who are not experts in their fields and, for students in disciplines where religion is siloed, an opportunity to gain feedback from scholars familiar with different religious movements. Six fellows have presented their work so far. Isak Tranvik is introducing a new analysis of Dr. Martin Luther King's social justice work that incorporates his religious convictions and the role of Christianity in his messages.

Beyond the immediate and obvious benefits of receiving feedback from scholars, practitioners, and students who examine similar questions from different perspectives, the ongoing discussions that continue after the formal meetings end have been exceedingly energizing and formative. They have not only improved my scholarly work, they have made me a better teacher, colleague, and practitioner of politics
– Isak Tranvik
Shreya Parikh
presented a developing project on the racial divides in Muslim communities in Tunisia and how religion and race intersect in individual identity.
It helped immensely to get input from an interdisciplinary group of researchers interested in the study of religion. I have also had the opportunity to learn about the study of religion in different regions and periods through presentations made by fellow scholars.
– Shreya Parikh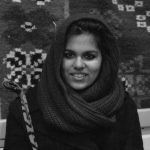 Anna Holleman
introduced an interview guide she has created for a mixed-methods project on the Religious Left and religious groups' involvement in social activism; her project will be underway this spring.
Though at times challenging, these debates and discussions have opened my eyes more to the ways that religion impacts different aspects of life all over the globe and across time that I would not have been exposed to in my own departmental discussions.
– Anna Holleman
We look forward to four more presentations in the spring, as well as the end-of-year research workshop.
Religions and Public Life at the Kenan Institute for Ethics explores the role of religions in historical and cultural context as they influence the lives of their adherents, interact with each other across time and geography, and contribute to the formation of institutions that make up the public sphere. A joint endeavor with the Duke Divinity School, it is an interdisciplinary platform that puts scholars, students, and practitioners in conversation with one another through collaborative research, innovative teaching, and community engagement. Funding for the graduate fellows also comes from generous support from the Duke Center for Jewish Studies, the Duke Islamic Studies Center and Duke University Middle East Studies Center, and the Program in American Values and Institutions.