Seeing Bias: a conversation with Jennifer Eberhardt
Jennifer Eberhardt, social psychologist and author of Biased, spent twenty plus years investigating the consequences of the psychological association between race and crime and thinking about what we can do about it. On Friday evening, she joined Duke historian Adrienne Lentz Smith as part of Kenan's Ethics of Now series at the Durham Arts Council. This public conversation considered how we might use what we know about bias and the brain to make a more equitable world. Eberhardt warned, "People think about bias as a personal journey but it's something that we should be holding our institutions and systems responsible for."
She went on to emphasize,
"The connection between the mind and the world, the mind and the institutions in the world –there's a pretty tight connection…how we think affects the kind of systems we build and those systems then affect how we think."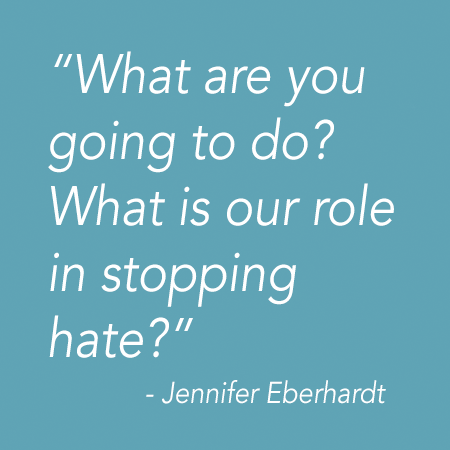 Eberhardt began thinking about such things long before she graced the halls of Stanford as a full professor. She recounted stories of her childhood and the way in which place influenced how she experienced the world – stark differences between racially divided neighborhoods and schools made her ask questions that she still asks today. Questions she noted that "spoke to the power of the environment to determine how your life will be, even your potential and whether you will reach it or not."
She provided real world examples of how we can use what we know about bias to combat it whether stopping racial profiling by Oakland police or on neighborhood listservs like Nextdoor. To address bias, these organizations worked to create processes to "slow people down" and make them think through a situation – cues that focused on behavior and set norms that denounced racial profiling were often enough to decrease biased actions. Eberhardt succinctly noted that their approach worked to change the familiar slogan "If you see something, say something." to "If you see something suspicious, say something specific." Eberhardt hopefully noted that in this way, "Changing the behaviors can change the mindset."
In a brief Q&A exchange with the audience about how these issues relate to Durham, Eberhardt ended by sharing her experience talking with survivors from the Charlottesville protests. The incident forced the community to wrestle with themselves to answer the questions that we all perhaps should consider: "What are you going to do? What is our role in stopping hate?"
---
Friday's conversation was part of Kenan's Ethics of Now series to engage the Duke and Durham community around issues that impact us all. These conversations continue in February with Kiese Laymon, author of Heavy, and in March with Francisco Cantú, former border patrol agent and author of The Line Becomes a River: Dispatches from the Border.