Moral Moments in Medicine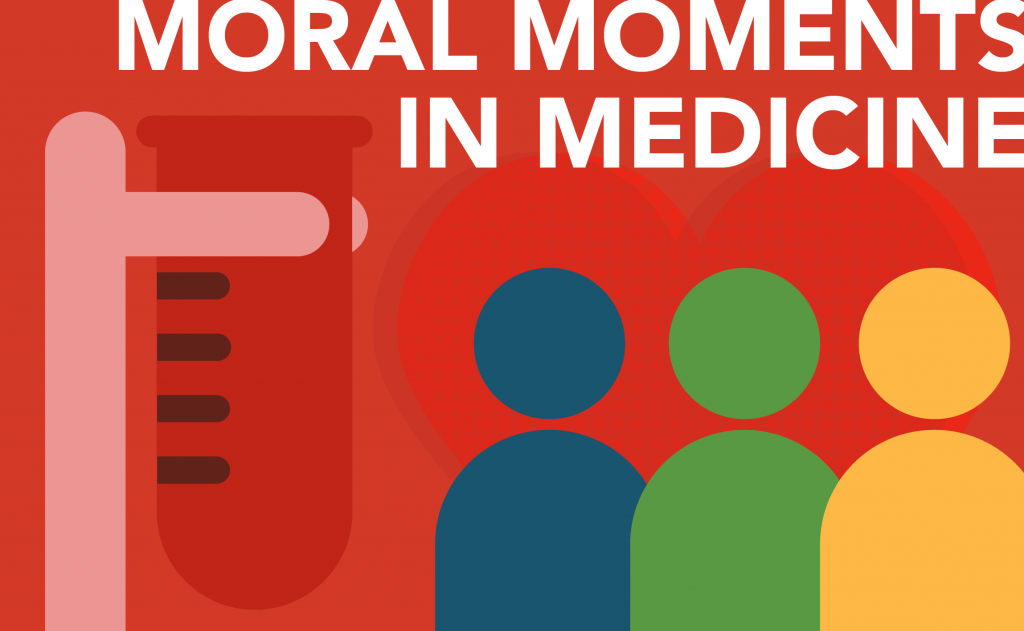 "Black Americans continue to experience the highest actual COVID-19 mortality rates nationwide—two or more times as high as the rate for Whites and Asians, who have the lowest actual rates" (APM Research Lab). Given that most of these Black deaths occur due to acute respiratory failure, they provide stark reminders of Eric Garner's dying cry, "I can't breathe," which George Floyd repeated, hauntingly, as police murdered him this past summer. How are we to make moral sense of the connections between COVID-19 mortality rates and police brutality?
This year, a group of 40 students and 16 faculty in the Schools of Medicine and Nursing at Duke are pursuing this question in Moral Moments in Medicine: Pandemics, Race, Social Justice, a new course hosted by the Trent Center for Bioethics, Humanities & History of Medicine in collaboration with The Purpose Project at Duke and the Center for Interprofessional Education and Care. Over eight months, healthcare trainees and clinicians are bringing the resources of medical humanities and ethics to bear on how they navigate the twin pandemics of COVID-19 and systemic racism.
"The pandemic has revealed massive fissures in our current society, and also gives us an opportunity to re-examine the status quo with new eyes," says Sneha Mantri, MD, MS, who co-directs the course. Mantri leads the Medical Humanities Program for the Trent Center, and she believes Moral Moments in Medicine provides a crucial space to apply the humanities to clinical practice in critical ways.
Second year DPT student Sarah Thomas brings her own critical lens to the course, even as she seeks to learn from it. "As a black woman in a predominantly white space, I know my perspective is one worth sharing," Thomas says. "However, I also acknowledge there is so much still to learn in regard to pandemics, ethics, racial history, and medicine." Through the course, she hopes to become "a more culturally competent, emotionally intelligent, and compassionate clinician."
Moral Moments in Medicine brings together students and faculty from the School of Medicine's Doctor of Medicine (MD), Doctor of Physical Therapy (DPT), and Physician Assistant (PA) programs and the School of Nursing's Accelerated Bachelor of Science in Nursing (ABSN) program. Together they participate in monthly small groups offering a variety of critical lenses and practices for negotiating our current moment purposefully. Students also participate in medical humanities lectures, narrative exercises, and book clubs and film discussions related to the course themes.
Mantri designed and co-directs the course with Jeff Baker, MD, PhD, who leads Duke's Trent Center. Baker and Mantri believed the moment was right for this course. As Mantri says, "It was a great opportunity to leap into something that previously seemed insurmountable – a multi-part, interprofessional longitudinal course – and to bring a variety of people to the table." Six different small groups meet monthly, each co-led by two or more faculty. Mantri co-leads Voices in Pandemic: Stories of Resistance and Social Justice and Baker co-leads Epidemics, Disparities, and History.
One recent meeting of Baker's group focused on a famous case study in medical experimentation: Thomas Jefferson's decision to test a newly invented smallpox vaccine on 200 enslaved people. Students and faculty examined the moral implications of Jefferson's complex legacy, pursuing questions such as "What does it mean that the very person who penned America's moral ideals also participated in its deepest moral failures?" and "How are healthcare practitioners supposed to promote health and practice virtuously in a profession so marked by these racial legacies?"
Thomas enrolled in the course hoping to have meaningful conversations about questions like these with a diverse group of clinicians. In a recent class session, she had such a conversation with second-year PA student Katie Durham. "These conversations remain with you," Thomas says. "They weigh on your heart and wreck your brain as you wonder how you can use the insight to provide better patient care." Durham agrees, and appreciates how the course offers her a structured space to learn, engage in hard conversations, and examine her own assumptions. Enrolling in Moral Moments in Medicine, she says, is a way to "dig deeper and hopefully make a small change in my corner of the world."
For Baker, who is a pediatrician and medical historian, this kind of deep engagement demonstrates what the humanities can bring to conversations about race and social justice.
"Students rightly want to 'do something,'" he says. "Yet when I speak to community members, they always tell me we need to listen before we act." This work of listening involves attending to the stories of both individuals and their communities. History and the humanities, according to Baker, help form us into better listeners and so contribute both to the practice of healthcare and to our common life together.
"It's hard enough to find space in the busy health professional curricula for the humanities," Baker adds. "It's even harder to make this happen across different professional schools." The global pandemic made this task both more difficult and more urgent. Moving forward Baker and Mantri hope this course lays the foundation for a longitudinal humanities curricula that bridges the Schools of Medicine and Nursing.
"The day is over, if it ever existed," Baker reflects, "when all you need to learn to care for patients can be learned from the sciences."
Brett McCarty works at the intersections of healthcare systems and religious communities and commitments. He holds a joint appointment in the School of Medicine's Department of Population Health Sciences and the Divinity School, and he also is affiliated with the Kenan Institute for Ethics and the Trent Center for Bioethics, Humanities & History of Medicine. McCarty is the associate director of Duke's Theology, Medicine, and Culture Initiative, and he is one of the faculty for "Moral Moments in Medicine." Currently, he is conducting qualitative research on the roles played by religious communities in the opioid crisis.