What Is Good Art? 2020 Finalists
The Kenan Institute for Ethics invited students from across Duke to submit artwork for What Is Good Art? The theme for the show is "Ethics in the Age of Coronavirus" These works explore how we should live during COVID-19, focusing on the role that art plays in our lives and its impact on how we see the world during a global pandemic. When social distancing, self-isolation, and stay-at-home directives are in place, what meaning does community hold and what new forms does it take? Congratulations to the finalists with their submissions on exhibition below.  Work submitted by graduate/professional students was judged separately from undergraduate submissions, with a panel of experts in ethics and aesthetics awarding First ($500), Second ($300), and Third ($100) Prizes in each category.
UNDERGRADUATE FINALISTS
Los Balconeros (First Place)
Sofia Zymnis
Visual Arts | Computer Science (2021)
It's easy to lose track of time during periods of lockdown. Hours merge into days merge into months. Like many others in a similar position, I have found some solace (and entertainment) through our neighbourhood balconies. Although people barely know each other, there is a sense of solidarity due to the enforced quarantine, and many people's only contact with the outside world is through that fenced hovering quadrangle. Through this work, I am creating a pseudo-autobiographical account of my time during lockdown illustrated by my balcony community. The balconies have provided me with a source of distraction and enjoyment, so I hope this project will provide some too.
Springtime (Second Place)
Irene Qiao
Computer Science (2022)
Ever since I came back home, I've felt this uncanny disconnect between the realities of my immediate surroundings and that of the wider world. Everyday, I learn about the rising number of confirmed cases of COVID-19 around the world, the shortage of personal protective equipment for medical professionals and essential workers, and the grim economic outlook — yet every morning, I still hear the birds singing outside my bedroom window. It's almost infuriating. The cherry blossoms down the block are still flowering, and the creek across my street is still running. Nature seems largely indifferent to this pandemic. We can always rely on art and artists to show us new perspectives. Sometimes, we long to see the silver lining. Other times, there is nothing more comforting than an affirmation that "this too shall pass."
COVID-19, 2020 (Third place, tie)
Lillian Clark Statistics
Visual Media Studies (2022)
On March 29, 2020, Governor Cuomo stated that 76,019 volunteer health care workers had stepped up to join the front line against Coronavirus in New York. I grew quickly accustomed to precipitous coronavirus statistics and maps with ever widening hotspots, but it still feels like the shock of a too-cold shower whenever I read about the wealth of misinformation and complete negligence of the urgent warnings of health care officials that is all too prevalent during this crisis. I am inspired by local restaurants providing free meals to those going hungry, nurses washing their scrubs overnight in hotel sinks in order to provide care where it is needed, and community members fighting to protect their neighbors for whom paying rent is right now, an impossibility. Here I have used data and graphs from from Forbes, NPR, PBS, Bloomberg, Worldometer, the City of New York, and Global Citizen. I made an attempt to include some numbers which tell a positive story. Too many people are growing ill and losing their jobs, but there are also many people who have made remarkable efforts to buoy their communities through struggle and uncertainty.
I hope this email finds you well in these uncertain times (Third place, tie)
Harrison Branner
Public Policy | Environmental Science (2020)
I've been in tumult these past months, and I imagine you all have been as well. In thinking about what I wanted to set as my goal for VMS 397 Digital Arts class, I simply could not work on anything that didn't pertain to our current global situation. In looking for inspiration, I was instantly captured by this tweet, which is a poem by Jessica Salfia entitled "First lines of emails I've received while quarantining". I was immediately moved to document my experience of the pandemic through the opening lines of emails I've received as the crisis has unfolded, so I collected the first line from every email in my duke inbox that referenced coronavirus, emails dating back to January through April. Already, collecting the lines moved me immensely, as the mix of Duke, personal, class, and commercial emails chart my own experience of the proceeding pandemic, the Duke community's experience, and our society's collective experience, simultaneously. It was very cathartic to work on and viewing the final product is entertaining and thought-provoking, for me at least, which I think is about all anyone can ask for with their art.
Food Scraps
Sophia Li
Neuroscience (2021)
A box containing two slices of cold pizza—sitting on top of a garbage can in the park. Squirrels scurrying around the college campus—sandwich crusts hanging from their stuffed mouths. The kitchen sink drain—clogged with bits of broccoli and rice. "What? It's just scraps," my mom would scoff whenever I criticized her for throwing out food, as she nonchalantly scraped the bits of leftovers on her plate into the bin. "They're not good for anything, anyway." But what if they were? Since the COVID-19 quarantine began in Massachusetts, my family has been trying to limit our trips to the supermarket. Instead of every weekend, we now go grocery shopping every other week. Consequently, we have had to reduce our consumption. I have become hyper-aware of the quantity of food my family eats, and even more so of the amount we throw away. I decided to start taking photos of our "scraps": the supposedly inedible parts, the expired and stale parts, and the disgusting parts of our food. Maybe scraps weren't good for eating, but perhaps they could be good for art. It became a challenge to see what new creations I could come up with everyday. Ever since I started photographing our food waste, my mom pauses to call out to me before dumping food in the trash: "Do you want my apple core? How about these fish bones? Care for some broccoli stems?" And sometimes, instead of throwing out the food, she also asks, "What if we add this to our soup for tomorrow's lunch?"
Miniature Coffee Shop
Milena Ozernova
Political Science | Visual and Media Studies (MIN) | English (MIN) (2021)
"All students must return home as soon as possible." The email reached me in a coffee shop in Shoreditch and my heart dropped when I realized that my semester abroad had ended so abruptly. Four days later, I found myself in a tiny Airbnb in Saint-Petersburg, unable to concentrate on my schoolwork, as I had the police bang on my door twice a day to check if I was home while the doctors in hazmat suits would swab my throat to see whether I was infected. I would never have gotten through this nightmare if it wasn't for my sister. I called her every day: I told her about all my plans that never came true, about my friends that were now scattered around the globe and about my favorite coffee shops. After two weeks had passed, I ran through the door and fell in my sister's arms. When we got enough of kissing and hugging, she took me to our room to show me the miniature she was building —the one I tried to capture in my photograph. Even though I could no longer study in my favorite coffee shop, she said, now I had a place of my own where I could write my essays, play the piano and drink as many iced lattes as I'd like. My little coffee shop might be made from paper, carton and wood and it doesn't serve real lattes, but right now I wouldn't want to be anywhere else in the world. Whenever life seems too dark and uncertain, I look at my coffee shop and switch its lights on to remind myself that despite everything I had lost, I would never lose the thing that matters—my family.
Does Age Determine the Value of a Life?
Sujal Manohar
Neuroscience | Visual Arts (2020)
During the COVID-19 pandemic, critical infrastructure and resources are stretched thin. Several hospitals have run out of resources, namely ventilators and hospital beds, due to an influx of coronavirus patients. In this situation, heartbreaking and ethically challenging decisions must be made to allocate resources to one patient over another. Since younger patients have a higher likelihood of recovering, they often receive priority in these situations. However, this raises ethical questions about how age determines the value of a life. Older adults offer wisdom and experience; younger generations are full of future potential. In this piece, I combined two photographs of my younger brother and my father, who look remarkably similar. I digitally manipulated my father's image to make him appear older. The same person, just decades apart, can be valued differently by society. Is it ethical for this societal value to result in a loss of medical care?
Don't
Rebecca Lee
Biology | Visual Arts (MIN) | Chemistry (MIN) (2020)
COVID-19. Before all of this, I would never have given the word a second thought. Who would have guessed it would become a household name in the worst way possible. We've all experienced this pandemic differently. Just the word evokes different emotions. As for me, I think of hiding myself, not in fear of being infected, but for fear of others' glares. And yet, I don't want to hide myself. Why do I need to be stripped of my identity and my culture? Why should I feel self-conscious for looking like myself? COVID-19. It brings to mind the endless days that blend into each other, where time is now nonexistent. Is it Monday or is it Thursday? We're stuck in the same routine, and yet the world continues revolving. COVID-19. It brings thoughts of memories that could have been, should have been, but are not. Memories that are normally taken for granted. This pandemic has brought about a period of reflection: reflection on our daily lives, on our insecurities, and on our relationships. These drawings are simply one person's perspective on these crazy times.
TINTED
Gloria Kim
Neuroscience | Visual Arts (MIN) (2022)
TINTED is a statement on the sinophobia that this virus has brought about, particularly with phrases like "the Chinese virus." Through the viewpoint of the square, you only see the prejudice imposed by Asian Americans, who are normal person underneath. The choice of yellow was completely intentional.
Communal Care in Capitalism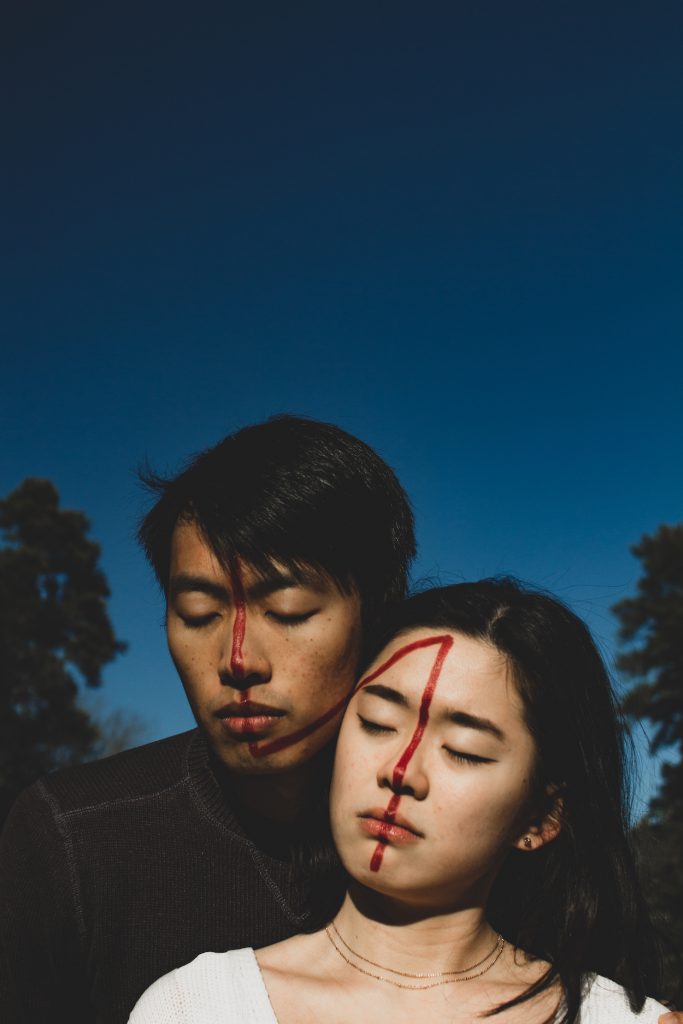 Elizabeth Lee
Sociology | Documentary Studies (C) (2021)
I've been thinking a lot about how capitalism has tricked us into believing that our value is how much labor our bodies can give. As a result, our relationships have become a transactional experience rather than one rooted in communal care and empathy. Human interaction has become like business deals and templates that put productivity and capital gain at the forefront instead of humanity. I've been blessed to have relationships in my life that make me feel holistically seen and greatly loved. I am treated like a human and not a human resource complaint. This photo comes from a place of being grateful to those who have poured into me and who have let me pour into them, who have still been present when I am down. The best parts of my self have been built on a strong foundation because of those who have sat down and taken the time to call me in and be in community with them. The red line is the process of their thoughts that speak through their lips that have entered my thoughts and speak through the words you're reading here. It is a relationship that is transactional but is transactional in a way that is through communal care and not for profit. It is for growth and love and connection. It is a relationship where bodies are meant to lean on each other and be life-giving forces. Especially during this time of COVID-19, where the language of productivity and profit is being forced down our throats, we need to take time to rest and be in community with those around us in this uncertain time.
Differences
Morgan Patton
Undeclared (2023)
My pieces approach multiple aspects of the pandemic we know as COVID-19. In these drawings, I wanted to create a narrative of the pandemic: not necessarily a cohesive one, but rather a combination of experiences, moods, and factors of the virus. Some pieces focus on environmental issues related to the virus, and the others relate to social factors and experiences with the virus. Each piece is individualized in a specific style, ranging from harsh line work to softer shading and more detail. The artworks can be interpreted in multiple ways depending on the viewer's knowledge of the pandemic and their experience with it. I want to emphasize this point; that no matter how much solidarity we feel with one another throughout this experience, our experiences are also very much our own. No one can know the best and the worst of this event. There is something dangerous about being an individual in a time when people push what they think are shared experiences onto everyone. Collectivism minimizes individuality. It minimizes people and their suffering. I encourage the viewer to be well-informed, and to listen to other people and their stories.
PSA
Morenike Moroof-Mustapha
Political Science | Neuroscience (MIN) (2020)
Over the past few weeks, we have received a series of PSAs (Public Service Announcements) from the CDC, WHO, and federal government about ways to minimize our expose/ spread of the virus. As I heard each one, I thought about how the health warnings uprooted a lot of things that were once part of our daily routine and replaced them with actions that are so foreign to us. . So the black charcoal surrounding each drawing doesn't only hone your attention on the "psa" itself, but also represents this state of uncertainty we are in right now, as we try to figure out what the "new normal" will be.
GRADUATE FINALISTS
A Room of One's Own (First Place)
Bree von Bradsky
MFA | EDA (2020)
After traveling to South Africa to film for spring break, I arrived back in Durham on March 17th, 2020. With a layover in JFK, I was not sure what to expect when re-entering the US. Borders had begun to close; some people were required to self-quarantine, and others not. Consumed with anxiety, I stood in a crowded line, waiting for my turn to speak with customs. "Have you been to Europe in the past two weeks?" They asked. "No," I responded. They handed my passport back without another word and I was on my way. When I safely arrived back in Durham, still without any strict guidance, I decided to make the ethical decision to partake in a strict 14-day self-quarantine; this film is a product of that time. While it documents my house and the activities I engaged in during these 14 days, it primarily focuses on my emotional experience by depicting a story that weaves in and out of reality. It is our social responsibility to stay updated on global and local news, but what is equally important is trying to manage our overpowering anxious thoughts. To do this I fed my soul with good books, television, and music. I danced in the kitchen and skyped with friends. I even found a way to watch live drag performances via our new favorite video calling application: Zoom. Although I enjoy doing those things in normal circumstances, nothing about this experience was ordinary. My social interactions felt distant, and typically big events passed by with minimal excitement. Everything I watched, read, and listened to, became about Covid-19. I could not escape, mentally, or physically. Even after my quarantine ended, measures taken toward social distancing remained. The decision to minimize the number of trips taken outside the house is an ethical one. As I continue to check in with my mental health, I deal with these decisions on a day to day basis in an effort to not overwhelm myself.
City Prevention - Shanghai (Second Place)
Yang Xu
MFA | EDA (2021)
As a Chinese student studying in the United States, my family members witnessed and experienced COVID-19 in China. Government to take provisional measures to close the channel to leave the city Wuhan, the implementation of a series of prevention initiatives across the country. Chinese people have actively cooperated with the government's policies and have contributed to all mankind by sacrificing normal life, paying a huge price to contain and stop the spread of the COVID-19. The result of this behavior is to save countless lives. How to better protect human rights and establish the correct concept of human rights while ensuring the safety of human life? This is an issue that individuals of us on the earth should think about. This is also the good art that the artist has the responsibility and obligation to display to the audience through the work. At the same time, I want to attract attention through the artwork and called on people to foster a correct idea of human rights.
Self-portrait, blue (Third Place)
Clay Michael Sanders
PhD | Civil & Environmental Engineering (2020)
In quarantine, technology has offered a conduit through which we can maintain connection to the outside world. We can laugh over a virtual face-to-face conversation with loved ones. We can escape reality in a TV binge. We can create and share art. We can reassure each other that we are not alone. But too, it offers access to a constant stream of information about the state of the world. A constantly-refreshing news cycle, an endless feed of images in a caustic blue light, all amplifying the peculiar isolation and uncertainty we find ourselves in. Social media, news, Netflix, Zoom: it won't go anywhere. But we should examine the media we interact with, and how (and how late into the night!) we interact with it. We are always "connected", but that is not enough. We should strive to support each other, to care for our selves, and to control how technology lights our lives.
Quarantine
Mingyong Cheng
MFA | EDA (2021)
Yu Zetao (Actor and Assistant Cinematographer)
MS | Computer Science (2021)
Quarantine is a short experimental film, expressing the various emotions during the COVID-19 quarantine through conceptual ways.
Fibers of Being
Lauren Henschel
MFA | EDA (2021)
What happens when we look at the familiar so closely, with such deep attention, that it starts to feel/becomes alien? As someone who suffers from an autoimmune condition everyday, this new state of being, of grappling with illness and the threat of illness on the body that many are facing is not new to me. I have been grappling with the reality of a body that can't always protect itself since my diagnosis over 10 years ago. The recent spread of the coronavirus across the globe has forced people everywhere to feel some degree of fear and disillusionment with how safe they feel in their bodies—something that the immunocompromised, and the greater community of people with disabilities, experience as a constant. My purpose is to foster consciousness around this "condition," of residing in the temporary shelter of a body, of the impermanent and illusory concept of being well, and to engender empathy for people who live inside this awareness every day. This 16mm hand-processed film plays with our perception of how familiar we are with our own bodies.
Responsibility
Su Hyen Bae
MA | Political Behavior (2025)
The Azaleas – Object I passed by a bush of white azaleas on Duke's East Campus. The bush had shed a puddle of beautiful, withering azaleas on the ground. My eyes rested on azaleas as they are familiar flowers in Seoul, South Korea – my hometown. I began gathering the fallen azalea's one by one, due to a new habit I formed of touching trees and leaves instead of the human hand. I had been living entirely in isolation the past weeks, and I yearned for the feeling of softness, warmth from another living being. Sympathizing with the azalea bush that lost pieces of its body to the natural passing of time, I had a strong urge to preserve the flowers. I – Personalization In essence, the painting is an attempt to immortalize the fallen azaleas – symbolizing that we can feel consolation through nature and knowing that there is a home in our memories. For me, the act of painting reminded me of the azaleas floating around the streets of Seoul. However, the title of the piece is "responsibility." I cannot make anything immortal by strict standards and the azalea's on my painting will one day decay as well, but I believe that the desire to preserve stemmed from my responsibilities as a fellow being, and in a more narrow sense, as a researcher. While my head was in turmoil during quarantine, I constantly thought of my role in this society as a social scientist; that meant remembering what should be remembered and doing my responsibility to immortalize the passing things in the present to the next generation. Community – Projection I attempt to project the individual experience to the community. The background of the painting depicts the bush, in the form of waves. As the wave progresses from the bottom to the top of the painting, one can witness the flowers gathering into threes and fours. While once individual, isolated petals, the flowers follow the stream of the wave gathering into clusters of families. The role of art in this work is its cathartic function in terms of emotional purification, intellectual clarity, and social catharsis. By performing the act of walking, gathering the fallen flowers, drying the flowers, painting the flowers, then returning to their place of birth to take a picture, I experienced and communicated the emotions of connectedness with nature, feelings of home, and the desire for social belonging. Although we are separated through social distancing, we can experience a feeling of connectedness through appreciating art. Even without physical networks, we can form a community through empathy and emotions towards art that enables us to fulfill our desires and role as responsible beings.
Impasse
Moriah LeFebvre
MFA | EDA (2021)
My uncle passed away on March 1st. My aunt found herself grieving the loss of the love of her life and partner of 43 years as the coronavirus crisis began to approach ever closer to North Carolina. The celebration of his life was scheduled for later in the month and less than a week prior to it, my aunt realized the full gravity of the situation and agreed that it must be postponed. With significant health issues of her own, my aunt found herself sheltering in place–in the home she had shared with my uncle—only now painfully alone. During the time when her loved ones would normally have been circling around her with our loving support, we found ourselves needing to keep a physical distance for her own protection. I found myself feeling ashamed of my own absence—knowing that it was necessary but wishing desperately that I could wrap my arms around her as I had when he first left us. The distance didn't feel right but closeness wouldn't have either. This piece is a part of a series of drawings in which I juxtapose words from text messages with my loved ones with the imagery that these words evoke for me. One day I was texting with my cousin, both of us worried and heartbroken, both of us recognizing the perverse bind that this timing held us all in. She texted these simple words and they struck a cord that ran deep. This drawing is an expression of solidarity my aunt, and all others who have found themselves in this painful impasse during this time—horribly needing to be around others, and also, fearing them.
Coming to One
Chuyu Xiong
MFA | EDA (2021)
In this docu-fiction film, I juxtapose my quarantine experience in Durham with that of my cousin from Jingmen, a city 300 km away from Wuhan. The project started as a short documentary of how individuals came together to combat the Coronavirus when it initially spread in China. However, as China gradually got it under control and the situation here in the United States exacerbated, I felt a need to echo her experience with my story. While she worked as a community volunteer outdoor, I have been stuck indoor. Our experiences, nevertheless, share similarities despite the nature of our activities, space, and time. Therefore, the film aims to explore how the pandemic has transformed not only the lives of people across the globe, but also their self-perception.
Self Isolation Polaroid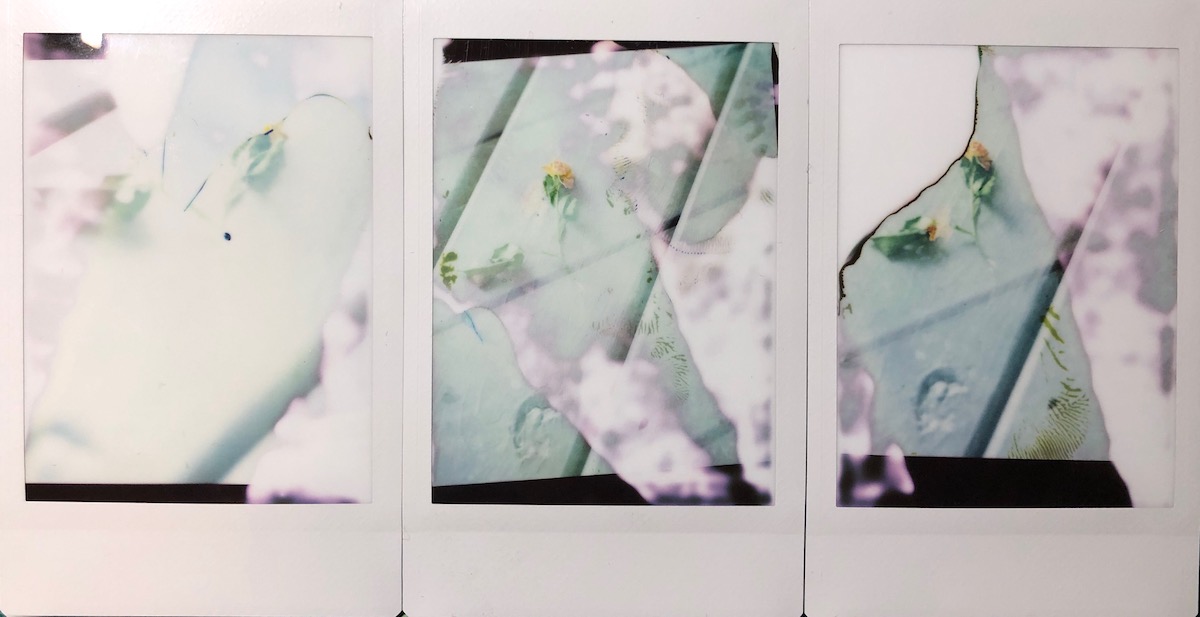 Alanna Styer
MFA | EDA (2020)
While at home with limited resources and limited contact with the world I began to think about how to continue creating photographs. My digital camera: broken. My film cameras: working but cannot develop or scan film. My phone: insufficient. My polaroids provided potential for not only creating but creating something new. I began loading them into my Mamiya twin lens. I'd expose them in camera and then develop the polaroid by popping the chemical pouch by hand. This and double exposures led me to create photographs that would not be achievable through any other method. Concurrently I would not have thought of this method under any other circumstances. These photographs are born of this specific moment in time and what is readily accessible.