To Reimagine Medicine, Pre-Health Students Rethink Their Relationship to the Arts
A group of 20 pre-health students spent a week immersed in the arts and the medical humanities, using movement, expressive writing, improv, art and photography to connect with others — and themselves.
Even before the COVID-19 pandemic, many medical professionals were in the midst of a mental health crisis, exacerbated by complicated bureaucratic tasks, long shifts, and understaffed units. All of these pressures combine to create the conditions for burnout, a state of all-encompassing exhaustion caused by chronic stress. According to the National Institute for Health Care Management, 75% of healthcare workers reported burnout in 2021.
A Duke program called Re-Imagining Medicine — "ReMed" for short — seeks to prepare pre-health students to navigate these pressures by exploring what it means to be a healthcare practitioner with integrity. ReMed is a program of The Purpose Project at Duke, the Kenan Institute for Ethics, and the Trent Center for Bioethics, Humanities & the History of Medicine.
ReMed fellows spend an immersive week on campus in mid-May. In workshops led by health practitioners, medical historians, ethicists, and artists, they participate in activities like expressive writing, movement, and photography to explore moral issues related to health care. Then, throughout the summer, they use these practices to reflect on their experiences working in health care-related positions, such as volunteering in clinics or hospitals, doing research in a lab, or interning with companies providing medical services.
By using the arts and humanities to analyze themes that are often absent in traditional pre-health education, the students learn how to better connect with others and with themselves.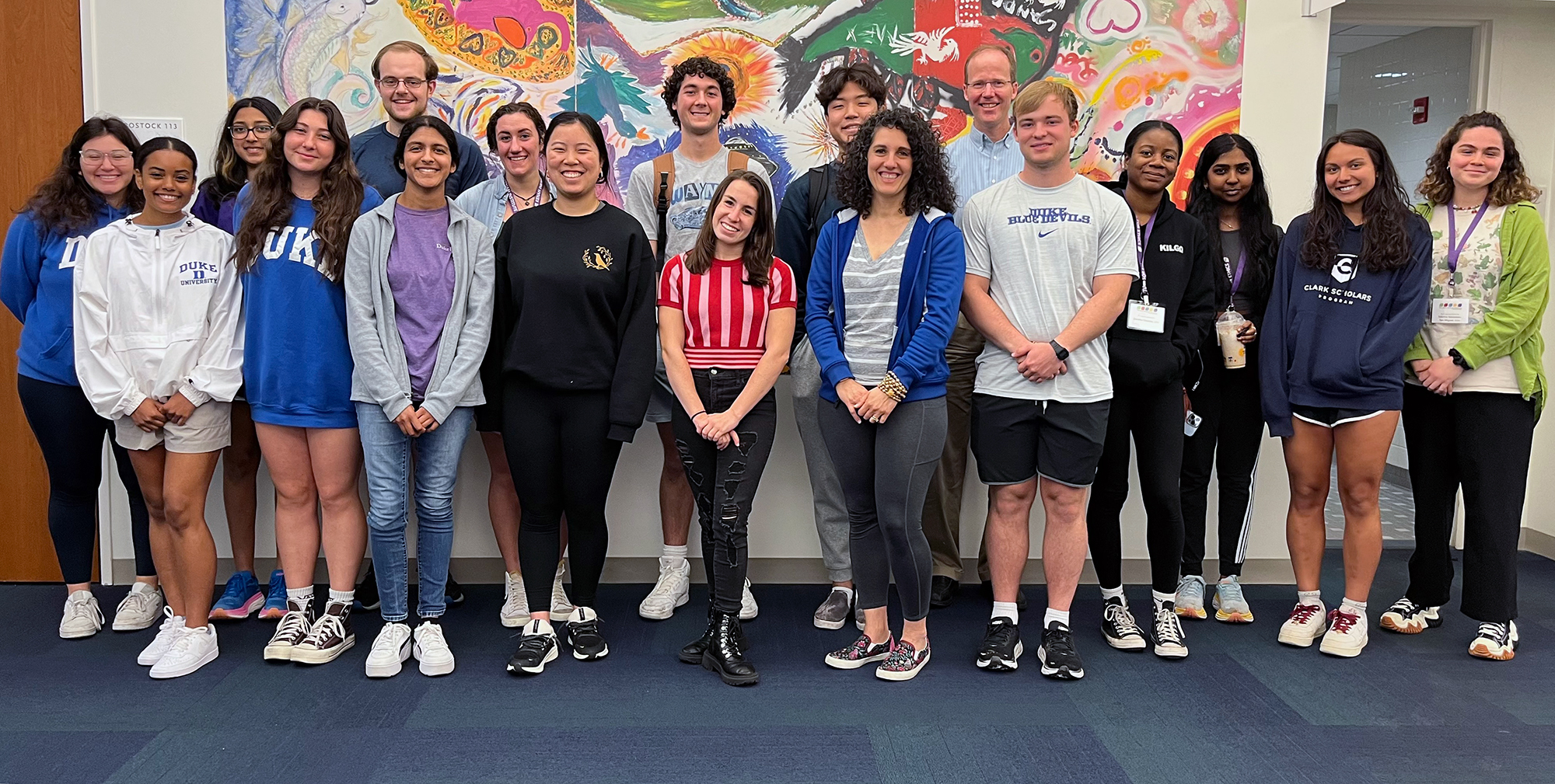 ReMed fellows described how techniques like expressive writing could help them in their future careers as medical professionals.
"I think journaling is really cool," said Sriya Dhupati T'24. "I feel like I might implement that into my life, even after ReMed."
"The journaling has been kind of a necessity," said Blake Perdikis T'24, in reference to his recent experiences working with paramedics providing medical care in rural Tennessee. "There have been some things that have been very hard for me to unpack."
He also noted that writing can be an effective way to process the physical effects of stress. "Understanding that physiological things could be affecting your judgment could come in handy as a medical professional."
Several students mentioned the value of the movement techniques they learned from Sarah Wilbur, a Duke dance artist and scholar. Amitesh Verma T'25 said that his initial interest in ReMed was driven by a course he took with Wilbur called "Arts and Health Care," which he described as "eye-opening."
Re-connecting with one's own body through movement not only helps to relieve physical and mental stressors: it can also promote teamwork and heighten awareness.
"One of my favorite sessions was with Dr. Sarah Wilbur," said Anika Pawlak T'24, "on movement and the role it plays in connecting you to your environment and the people in it, and to yourself."
"I really loved when we were exploring how movement and dance [could be] incorporated into health," said Perdikis. "There's this one exercise we would do. We would take inventory of our body, and afterwards, she'd say, 'You should feel like a warm can of soda,' and you totally do. Like, you just feel aware, and your reception is perfect."
Verma said that the ReMed program provides students with the resources to connect with patients and to view them holistically, rather than simply rushing to diagnose them. He calls this "building character."
"Physics and chemistry are going to prepare you to solve the illness at hand, but I've realized that solving the illness at hand is just not enough," he said. "I've been in the hospital a couple of times in my life, and it's been really worthwhile when a doctor does really, truly understand you — not just your condition."
"Ethics and history and arts — you bring that all together when you're trying to think about how to treat a patient," he continued.
The hope is that in addition to viewing patients holistically, the students also develop a holistic approach to their own wellbeing, whether by connecting with their bodies through meditation or unpacking complex emotions through writing.
"These are the types of things I wish every pre-med student was required to do," said Pawlak. "Techniques to be more self-aware and more present are also going to make you more present to other people."
"Having this kind of experience really does have an impact on making us better and more holistic healers," said Dhupati.
And being creative can help you reconnect to your own sense of purpose.
"It's always reorienting your mind as to why you want to do medicine, or why you want to be in medicine," said Perdikis. "I think just keeping that spark alive is one of the biggest things for burnout."