Advancing Ethical Tech Policy and Innovation
Emerging technologies – AI and machine learning, big data, algorithmic decision making, predictive analytics, cybersurveillance, and cyberwar – are forcing a re-evaluation of the relationship between the citizen, the state, corporations and technology itself. Technically Right is committed to advancing public understanding and innovative policy solutions to the ethical challenges posed by new technologies. As a consortium of faculty, students and industry practitioners, Technically Right is contributing to the global conversation, encouraging cross-sector collaboration, and training a new generation of leaders in the areas of privacy and ethical tech.
Upcoming Events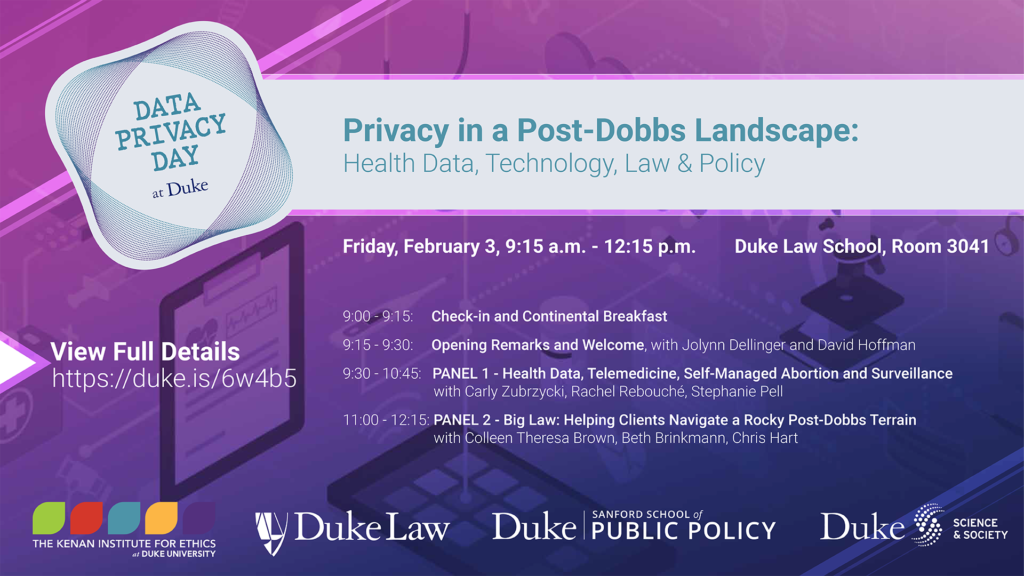 PRIVACY IN A POST-DOBBS LANDSCAPE: HEALTH DATA, TECHNOLOGY, LAW & POLICY
The Supreme Court's June 2022 decision in Dobbs v. Jackson Women's Health and the state laws banning abortion that are being enforced and enacted in its wake have implications for privacy that reach far beyond an individual's right to decide whether to have an abortion. Twenty-first century technologies, surveillance, our data economy, and the lack of effective privacy protective laws create a post-Dobbs landscape rife with privacy challenges and harms.
Our Data Privacy Day 2023 event, "Privacy in a Post-Dobbs Landscape: Health Data, Technology, Law & Policy," will explore some of these issues. In our first panel discussion, we will consider reproductive health data, the limited nature of HIPAA and the privacy implications of interoperability mandates; the increasingly important role played by telemedicine and medication abortion for privacy and reproductive health; and the rise of self-managed abortion, criminalization and the associated surveillance of women. In our second panel, partners from three of the country's leading law firms will discuss the multi-faceted ways in which laws passed in the aftermath of Dobbs are affecting the interests of a broad spectrum of clients and the ways data privacy issues arise in and affect their post-Dobbs practice of law. We hope you will plan to join us on February 3 at the Duke Law School!
Student Competitions
2023 Ethical Tech Case Competition
Competition details to come.
Open to Duke undergraduate and graduate students! Students are challenged to develop regulatory or policy ideas to address the ethics of emerging tech and promote societal well-being, civil rights and liberties, and human rights.
Organized by the student-run Ethical Tech and supported by Technically Right at the Kenan Institute for Ethics, this competition gives Duke undergraduate and graduate students an opportunity to tackle a practical case challenge centered around technology and ethics in a multidisciplinary way. Problems involve the issues of ethics, legality, privacy, business, and technical feasibility to give competitors a wide view of decision making.
Competitors will be assigned to or register as teams of 3-4 members. It is recommended that teams consist of members with varying backgrounds in engineering, business, policy, law, philosophy, computer science, economics, psychology, design, etc. Teams will be given the problem statement and case file two weeks before the awards are announced, during which time they are free to consult any sources, including professors, alumni, and working professionals.
Information on previous competitions: