Purpose Fellows Reflections
Meet the 2018 Kenan Purpose Program Summer Fellows.
Students in this second Fellows cohort completed the Pursuit of Purpose gateway course in the spring semester of 2018 year and will be embarking on internships this summer. They will document their internship experiences through regular reflective writing. See below for student bios and links to each of their summer portfolios, once they are underway.
David Frisch is a rising junior majoring in Political Science from Pittsburgh, Pennsylvania. David is fascinated by the ethics of law, especially as they intersect with family decisions. This summer, he will be working as a court advocate at the Durham Crisis Response Center in Durham, NC.
Jillian Kohn is a rising senior from Evanston, Illinois majoring in Public Policy and pursuing a Certificate in Ethics & Society. Jillian is working to knit together her varied interests in the arts and using businesses to enhance social good. After a policy-oriented internship last summer in Washington, D.C., she is hoping to gain perspective on where she wants to live and how she wants to work at SuitUp, a non-profit based in New York City working to engage corporations in beneficial relationships with low-income schools.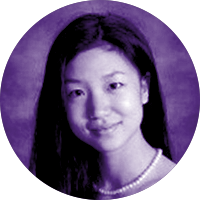 Teresa Meng is a rising senior Biology major from Raleigh, North Carolina on a pre-med track. Teresa has long expected she would pursue medical school. While that remains her goal, she has increasingly become interested in narrative approaches to health care and medicine. This summer, she will be putting her narrative medicine interest into practice at Samaritan Health Center, a clinic in Durham, NC.
Jaymin Patel is a rising senior from Albany, Georgia majoring in English. Jaymin has explored a wide variety of possible career paths at Duke thus far. He has a long-standing interest in law as a possible field, and he is hoping that his work with the Dougherty County District Attorney's Office in Georgia will help ground and clarify that interest.
Cristian Santiago is a rising senior economics major from Tampa, Florida. Cristian is committed to helping vulnerable populations, work he sees as abundant. He will be working to better understand and address urban planning and gentrification issues with Community Empowerment Fund in Durham, NC, a nonprofit organization that focuses on interrelated issues of housing, employment, and financial independence for low-income residents.
Sloan Talbot is a rising senior from Ypsilanti, Michigan majoring in Cultural Anthropology with a Certificate in Ethics & Society. Sloan is a passionate advocate for greater access to resources for historically disadvantaged groups. At Duke, she is deeply involved in creating a community for first-generation college students. She is hoping to discern whether non-profit work is a possible career avenue for her this summer with Families Moving Forward, an innovative organization supporting families attempting to transition out of homelessness.
Sangjie Zhaxi is a rising junior Cultural Anthropology major from Tibet. Sangjie is committed to the preservation of the rural Tibetan culture and lifestyle in which he was raised. He is aware that his culture's persistence rests in part on the presence of opportunities for young people in rural Tibet that would induce them to stay where they grew up. This summer, he will be working with Ganglha, an NGO based in Xining, China on the Tibetan Plateau that focuses on cultural preservation through social enterprise.