Ethics Book Club for Staff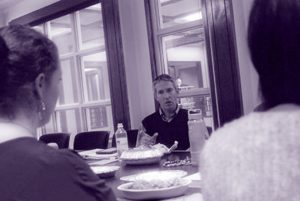 Established in 2015 by Suzanne Pierce (of the Sanford School for Public Policy), Ethics Book Clubs for Staff have spread across Duke's campus. More than 50 books have been read across 19 departments. The program fosters an informal and fun conversational space for Duke staff to discuss works of fiction and non-fiction related, broadly, to ethics.
The Kenan Institute for Ethics invites new departments to apply for seed funding ($500) to purchase books and supplies in their first year. Expectations for all book clubs are as follows:
Clubs are open only to staff members from Duke departments and schools; clubs must be comprised entirely of Duke staff members
Clubs must engage issues surrounding ethics through their book selections and group conversations (sample book list available upon request)
Clubs should meet approximately monthly and meet on-campus, preferably during work hours
Clubs should be interested in convening with the Kenan Institute for Ethics, Political Science, and Sanford School groups for occasional large-group discussions
Clubs should submit a report of activities by the end of the academic year
For more information or to apply for seed funding (applications reviewed on a rolling basis), contact Jeremy Buotte (jeremy.buotte@duke.edu).