RELIGIONS IN THE POSTSECULAR AGE
Inspired by the surprising and powerful return of religion in the 21st century as a force shaping contemporary society, Religions and Public Life is a university-wide interdisciplinary initiative that puts scholars from across campus and multiple disciplines, graduate and undergraduate students, and local and international practitioners in conversation with one another through collaborative research, innovative teaching, and community engagement.
With a focus on creating a space for discussion and scholarly collaboration, we have developed extensive regional, national, and international networks in the pursuit of religious dialogue, research, and education. We support and coordinate research programs addressing religion's social and historical role, and bring to campus leading scholars and public intellectuals to stimulate debate. We have a particular interest in advancing interreligious dialogue, in examining the accommodation of religious minorities, and in understanding the working of religious diasporas in a globalizing world.
RELIGIONS AND PUBLIC LIFE GRADUATE STUDENT WORKING GROUP
This student-led interdisciplinary seminar brings together graduate and professional students and postdocs to discuss their works-in-progress on selected themes such as "Minorities and Diasporas" (2017-18) and "Pain and Joy: Polemics and Praise in Religious Communities" (2018-19), "Church and State" (2019-20), and "Immigration and Religion" (2020-21, 2021-22). Students also brainstorm about possible applications of research to current affairs and review grant proposals, enhancing interdisciplinary professional development.
Meet the 2022-23 RPLI Fellows here.
INTERNATIONAL NETWORK FOR INTERRELIGIOUS RESEARCH AND EDUCATION (INIRE)
The International Network for Interreligious Research and Education represents the collaboration of six American, European, and Israeli universities, and a global network of scholars from different disciplines and fields, working on religion. The network holds an annual conference and summer school (Leipzig in 2018, Groeningen in 2019, Bar-Ilan in 2022). Religion is approached from interdisciplinary and multi-confessional perspectives, with a view to promoting religious literacy and encouraging interreligious dialogue among scholars, students, and the public. Learn more about the network here.
Triangle Intellectual History Seminar
The Triangle Intellectual History Seminar is one of the premier institutions in the country for the study of intellectual history. For more than 25 years, the seminar has gathered together historians from around the country, and the world, to discuss texts in contexts, probing the intricate relations between intellectual practice, aesthetic imagination, and social reality. Our historic strength is in the intellectual history of the modern Atlantic world, focusing on political and economic thought. In recent years, the seminar has expanded to include the history of science, gender, empire, and international law. Like the discipline of intellectual history itself, the seminar continues to evolve. Learn more about the program here.
NC Jewish Studies Seminar
The NC Jewish Studies Seminar (NCJSS) offers a stimulating and exciting forum for academic engagement on Jewish history, culture, and religion.  Since its inception in 2001 under the name Duke-UNC Jewish Studies Seminar, the seminar has brought together faculty, graduate students, and internationally renowned scholars to discuss cutting-edge work in Jewish Studies. Meetings are held monthly, and papers are distributed in advance for all to read.
The NCJSS is a collaborative partnership of Duke, NC State, UNC-Chapel Hill, and Wake Forest, with participants coming from universities and colleges across North Carolina. Closely coordinated with the NCSU and UNC-Chapel Hill public lecture series in Jewish Studies, the seminar enriches the scholarly climate in the area and strengthens the Jewish Studies programs in the local universities. To read an example of a past seminar, see this blog post from scholar and novelist David Halperin, which also includes video of panelists. Learn more about the program here.
Seminar Series: The Liberal Imaginary and Beyond
Cosponsored by the Religions and Public Life initiative, the Center on Modernity in Transition (COMIT), and the Institute for Public Knowledge at New York University, the Liberal Imaginary and Beyond online series aims to examine the origins, contents, and development of post-war liberalism, as well as to consider significant attempts to move beyond the resultant liberal imaginary without casting aside its impressive moral and political achievements. The series springs from COMIT's goal of creating spaces for research, writing, and dialogue on essential questions related to the discourse on global-civilizational crisis and humanity's potential response. Learn more about the series here.
On the spiritual in contemporary architecture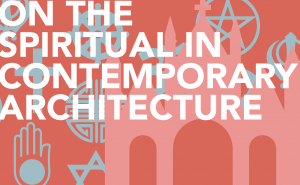 This webinar series engages the work of four contemporary architects in the field of sacred/religious architecture. The series features the work of Joan Soranno, Siamak Hariri, Brigitte Shim, and Nader Ardalan. The structure of the four events is that each of the invited architects will begin by offering a short presentation on their work, which will then be followed by a panel discussion with several other leading scholars and architects. Co-sponsored with the Architecture, Culture, and Spirituality Forum and the Center on Modernity in Transition (COMIT).
Identity & Belonging in a Global Age: A Speaker Series
With the rise of tribalism and nationalism throughout the world, questions of collective identity and belonging have surged to prominence in recent years. Across numerous disciplines and discourses, a key dilemma has taken shape: how to reconcile the legitimate yearning for rootedness and locality, with the fluidity and porousness of an increasingly global age. On the one hand, prevailing responses to this dilemma, including those shaped by predominant forms of nationalism, liberalism, and globalism, are struggling to resolve the tension. On the other hand, a range of perspectives deriving from alternate sites of collective life and value—for example, indigenous communities, postcolonial and social justice movements, religion, environmental movements, and cosmopolitan networks—cast the dilemma in a different light.
This webinar series brings together leading thinkers from a variety of perspectives to examine and reframe the crises of identity that confront us in a rapidly changing global age, and to think deeply about how humanity might resolve them. Co-sponsored with the Institute for Public Knowledge at New York University and the Center on Modernity in Transition (COMIT).
Community Ethics: Faith-based Organizing, Congregational Development, and Coalition Politics
Through a grant from the Kenan Institute for Ethics, Professor Luke Bretherton (Divinity, Kenan Senior Fellow) is leading this initiative to explore how organizing can connect congregations with local communities to help foster meaningful and transformational change for the better, in both the communities and in the congregations. Through a series of workshops, interviews, and interdisciplinary public scholarship, this project brings together diverse congregations, neighborhood associations, and local institutions, along with faculty and students at Duke, to capture and archive the wisdom of community organizers who have many years of successful experience enabling grassroots democratic politics and religious and non-religious public life. Learn more about the initiative here.