Religions and Public Life Graduate Working Group
Graduate Student Working Group
The Religions and Public Life graduate student working group brings together graduate and professional students and postdocs to workshop works-in-progress, brainstorm applications of one another's research to current affairs, and contribute to one another's interdisciplinary professional development. The group's theme for AY 2017-18 is Minorities and Diasporas.
2017-18 Fellows
Kathryn (Kat) Alexander is a Ph.D. Candidate in Political Science with a first field in Security, Peace and Conflict and a second field in Religion and Politics. Her dissertation takes a multi-methods approach to examining how levels of religious commitment within countries' populations impact foreign policymaking processes and contribute to international conflict. Her research primarily focuses on religion in international relations, connections between domestic and international politics, American foreign policy, and Turkish politics. Prior to matriculating at Duke, Kat was a Fulbright ETA lecturer at Karadeniz Technical University in Trabzon, Turkey. From 2013-2016, she served as the graduate fellow for the Duke Program in American Grand Strategy, and she was a Foreign Language and Area Studies Fellow for Turkish at Duke from 2013-14. She spent the summer of 2016 as a Visiting Researcher at Koç University in Istanbul, conducting field interviews for her dissertation research. She holds an M.A. in Political Science from Duke University and a B.A. in Government (summa cum laude) from Sweet Briar College.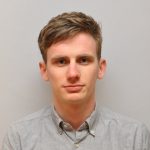 Joe Block is a doctoral candidate in the History department at the University of North Carolina at Chapel Hill. He studies the history of African American and American Jewish political thought, and is working on a dissertation provisionally entitled 'The intellectual origins of African American-Jewish relations, 1827-1925.' Joe is from London, UK, and holds a BA (Hons) and M.St (with distinction), both from the University of Oxford.

Chris Burner is currently entering his fourth and final year of a dual Master's program at UNC School of Social Work (MSW) and Duke Divinity School (MDIV). While in this program, Chris has traveled to Cape Town, South Africa the past two summers where he initiated a life-changing internship at a non-profit agency called the Triangle Project in Mowbray, South Africa. Triangle Project is one of South Africa's largest human rights organizations, which focuses on the "full realization of constitutional and human rights for individuals." At the Triangle Project, Chris began research on hate crimes perpetrated against the LGBTQI community, and has helped design and facilitate research projects that address hate perpetrated against the most marginalized members of society. Chris's academic interest involves exploring how religious intolerance of LGBTQI-identifying individuals affects individual faith trajectories. Chris has also just been accepted into the Somatic Experiencing training program–a professional three-year training process to learn a therapeutic modality that releases traumatic shock in the body.
Ajenai Clemmons is a Ph.D. student in public policy with a concentration in political science at Duke University's Sanford School of Public Policy. Her academic research focuses on the most important factors that help and harm the police-community relationship, focusing especially on African Americans and European Muslims. In early 2017, Ajenai co-chaired the Annual Distinguished PhD Lecture for the Sanford School of Public Policy and co-chaired the opening session of Provost Kornbluth's conference on policing, race, and community. She also convened a group of rising leaders in Italy from various religious, ethnic, and migrant minority groups to collectively envision an Italian leadership development program to strengthen inclusion and equity by fostering minority coalitions. Most recently, Ajenai moderated a panel of lead implementers of diversity and inclusion for the Canadian, British, and German militaries at a German Marshall Fund conference in Washington, D.C. on diversifying the security sector. Ajenai spent twelve years as a government official as well as director of policy for state legislators across the country, and she has served on several boards of directors, remaining an honorary trustee and active donor for the Women's Foundation of Colorado. She holds an undergraduate degree from Drake University in International Relations and Latin American Studies and a Master of Public Policy from the University of Denver.
Christina C. Davidson, Ph.D., is a historian of the Caribbean and African diaspora and an Instructor in the History Department at Duke University. Her research centers on religion and racial formation in the circum-Caribbean, and she is currently working on a book manuscript tentatively entitled, "Converting Spanish Hispaniola: Race, Religion, and U.S. Diplomacy in Santo Domingo, 1880-1899." Trained as an interdisciplinary scholar, Dr. Davidson also analyzes evolving notions of race and religion in the present through her ongoing ethnographic research with the African Methodist Episcopal (A.M.E.) Church in the Dominican Republic and Brazil. She joins the 2017-18 Religions and Public Life Graduate Scholar cohort to pursue research on her project, "Born Again Black: The Contemporary AME Church in the Dominican Republic and Brazil," in which she examines the symbolic meanings and inner-workings of a traditionally African American institution–the A.M.E. Church–in its modern context in Latin America.
Emily Dubie is a PhD student in the Graduate Program in Religion, with a focus in Christian ethics. Her research examines the moral perplexities of providing care within bureaucratic settings. She is especially interested in how Christian social workers draw upon religious beliefs and practices to make specialized judgments as they distribute social services across asymmetries of power. Emily received a MTS from Notre Dame in moral theology and a BA from Saint Anselm College in international relations.
Lea Greenberg is a Ph.D. student in the Carolina-Duke Graduate Program in German Studies. She grew up in Lawrence, Kansas and earned a B.A. in German (with honors) and a concentration in Russian, Central, and East European Studies from Grinnell College. Preceding her doctoral studies, Lea spent a year in Berlin as a Fulbright English Teaching Assistant. Her research interests include the politics of Jewish integration during the 18th and 19th centuries, the conceptualization of nation and language, and Yiddish literature. Lea is currently focused on examining how the socio-political framework of the "German nation" and its discourse relate to concurrent portrayals of Yiddish in German literature.

Travis Knoll, a History PhD student, works on the intersection between religion and politics in Modern Latin America. Previous work includes comparisons of Brazilian and Argentine Catholic intellectuals' responses to authoritarian and democratic governments from 1930-1980. His news commentary on religion and politics has appeared in the Huffington Post and Washington Post. He is currently developing a dissertation project tracing the trajectory of Brazilian Liberation Theology since 1976 and its embrace of the Brazilian black movement, specifically through mutual efforts to promote ethno-racial affirmative action policies in Brazilian public and higher education. He currently serves as project manager for the Duke Bass Connections' "Cost of Opportunity" project. This international research collaboration analyzes the role Brazilian secondary and higher education plays in the social mobility of historically disadvantaged populations.

Joanna Murdoch (English Department) works on late medieval poetry and mysticism. She focuses on medieval writers' figurative strategies—metaphor, analogy, allegory—as evidence of their participation in debates over the relations between universals, particulars, divinity, language, and the material world. She also explores the enduring ethical claims such poetry makes on readers. Central to all these pursuits is her sense of indebtedness to Jewish and Christian traditions of scriptural study, with their complex negotiations of what is seen and unseen, sayable and unsayable, present and absent, singular and communal.

Daniela R. P. Weiner is a PhD student in the Department of History at the University of North Carolina at Chapel Hill, working under the direction of Konrad Jarausch and Karen Auerbach. She holds an AB in History and Italian from Vassar College, a MS in Education from Johns Hopkins University, and a MA in History from the University of North Carolina at Chapel Hill. Weiner's dissertation, tentatively titled "Teaching a Dark Chapter: Holocaust and Resistance Representations in East German, West German, and Italian History Textbooks, 1943-2000," is a comparative and transnational study of how the Holocaust and the Second World War were represented in history textbooks in the post-fascist states of East Germany, West Germany, and Italy. Her work has been funded by the UNC Department of History, the Carolina Center for Jewish Studies, the Duke University Council of European Studies, the U.S. Department of Education (FLAS fellowship), and the Georg Eckert Institute for International Textbook Research.