Purpose Fellows Reflections

Meet the 2017 Kenan Purpose Program Summer Fellows.
Students in this inaugural cohort have completed the Pursuit of Purpose gateway course in the 2016-2017 academic year and successfully applied for fellowships to further explore what purpose means to them through internships. They will document their internship experiences through regular reflective writing. See below for student bios and links to each of their summer portfolios, once they are underway.
Snehan Sharma is a rising senior majoring in History from Grayson, Georgia. Snehan is driven to make societies more just and open. In past summers, he has explored the dynamics of integrating immigrants into a city in the Atlanta exurbs and worked for fairer housing in Durham. This summer, he will be working with the Massachusetts and Immigrant Refugee Advocacy Coalition (MIRA) in Boston.Read Snehans summer reflections.
Chris Caffrey is a rising senior and history major from Greensboro, North Carolina. Chris is very interested in social justice, and he is keen to discern the best way for him to make a difference. His interest in law took him to the Guilford County Public Defender's Office last summer, and he will be back in a similar position this summer.Read Chris's summer reflections.
Miriam Levitin is a rising junior Psychology major from Manhasset, New York. Miriam is deeply involved with gender violence prevention work at Duke, and she is spending this summer in New York City working at Legal Momentum, a women's legal advocacy nonprofit.Read Miriam's summer reflections.
Arbre'ya Lewis is a rising senior from Marion, South Carolina whose Program II major is Visualizing Medicine: The Role of the Media in Healthcare Communications. After considering a pre-med track, she has determined that improving communications in medicine is the best way for her to improve healthcare in America. This summer she will be working with Kaplan, where she will focus on targeting pre-health students and understanding the communication and tactics that are used in health related educational ventures.
Ellen Mahoney is a rising senior majoring in History from Mansfield, Massachusetts. Ellen is considering a career in law, possibly focused on workplace issues impacting women. This summer she is interning at the Office of Public Interest Advising at Harvard Law School.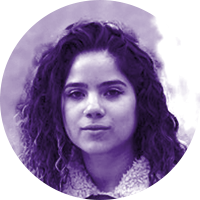 Alexandra Viqueira is a rising senior majoring in International Comparative Studies and Asian and Middle Eastern Studies, with an Arabic minor. Originally from Maplewood, New Jersey, Alex spent last summer in Jordan and has been committed to going back ever since. She will be interning with the Al-Hayat Center for Civil Society Development in Amman, Jordan this summer.Read Alex's summer reflections.