One Team is based on the idea that it takes all of us to create a respectful culture at Duke.
Last year's campus climate survey that found that 48% of undergrad women and 14% of men experienced sexual assault during their time at Duke. We each have a role to play in preventing sexual assault on our campus.
The One Team campaign will provide information and engagements to enable team members to shape an environment of sexual respect. Specifically, One Team will focus on:

Campus resources for survivor support and reporting information

Tools and training for active bystander intervention

Redefining social norms and what we view as acceptable at Duke
We're launching our second stage of the project. Our Bass Connections has developed a new sexual violence training program, and we need participants to help us workshop the program. As a participant, you will be trained through the program we've developed, and then will have an opportunity to provide feedback about the training session itself. Dinner will be provided!
This is a really concrete way for you to affect the culture of sexual violence on campus and we need your help! Feel free to forward this email to anyone who might be interested. Bring along your roommates, friends, partners, anyone who you think could benefit from the training, and/or would be able to provide feedback about how effective the training is.
We have two training sessions planned. The first is on March 1st (Sunday) at 5pm. The second is on March 3 (Tuesday) at 6pm. The whole training will last about 1.5 hours and will be held in the Ahmadieh Family Conference Room, West Duke 101.
If you're interested in becoming more involved, please sign up for a session through the link below (free dinner!). We're looking to test novel interventions aimed at addressing sexual misconduct on campus. Also, all students who attend one of these sessions will receive a free One Team hat!
Register here: https://forms.gle/PddvYHPHDN565RaG9
Thank you again for pledging to create an environment of sexual respect,
OneTeam Duke
Click here to take a short quiz to find out your bystander intervention style :
Did you know your personality type affects your bystander intervention style? Take this quick quiz to find out what your intervention style is. You will also learn ways you can intervene more effectively based on your strengths and weaknesses.
– Adapted from the work of Step Up!, Jeff Janssen and the DiSC Behavioral Assessment.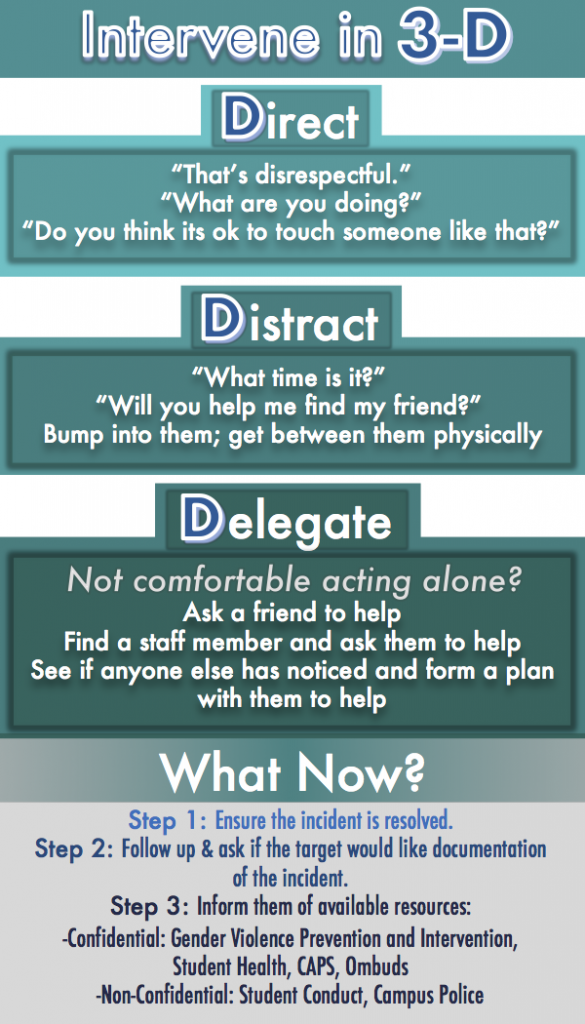 Join the team today. Take the pledge here!
Who's on the team?! (136 members and growing)

Aaron Spruill, Adam Beskind, adrian doan, Aidan Fitzsimons, Alan Zhao, Alberto Garcia-Perez, Alexander Frumkin, Alexus Roberts, Ali Ostad, Ali Sloan, Allegra Smith, Ally Freifeld, Allyson Lee, Alyssa Shin, Amrita Lakhanpal, Anav Vedi, Angikar Ghosal, Anna Kasradze, Anna Muthalaly, Anna Sturkey, Arianna Buchanan, Astrid Giblin, Bill Guo, Blake Hobson, Carly Grossfield, Carolyn Bell, Catherine McMillan, Charlotte Navin-Weinstein, Chloe Hicks, Christina Wang, Claire Fan, Claire Parker, darien minnihan, Eden Schumer, Edward Kim, Emma Cairns, Emma Frankstein, Erin Blanding, Evan Finley, Frankie Pucci, Fred Raimi, Garrett, Gerardo Gomez, Haley Schleicher, Hamdy Inusah, Hana Hendi, Ibrahim Butt, Ignacio Heeren, Ignacio Valdez Bicard, Ilayda Arslan, Jack Glusman, Jackson Kennedy, Jessa Bock, jessica bierschenk, Jia Dua, Jonah Perrin, Julia Wang, Kara Wall, Katelyn Foreman, Kathryn Silberstein, Kendall Dees, Kiran Nagar, Kyle Gray, Lana Gesinsky, Lauren Garbett, Leila Milanfar, Lily Levin, Liv McKinney, Magdalena Phillips, Mahima Varma, Maile Lehrer, Mannat Bakshi, Mare Kozmar, Margot Armbruster, Mari Joerstad, Maria Rocha, Max Beck, Melissa Leal, mia miranda, Mia Zaldastani, Michael Haile, Moran Anisman-Razin, Mukhtar Al-Nasrawi, Nathan Lewis, Nathan Liang, Nell Jones, Nellie Sun, Noah Breuss-Burgess, Noelle Garbaccio, Nora Benmamoun, Olivia Kramer, Paige Kleidermacher, Paola Casado Cocero, Pratamesh Ramasubramanian, Prateek Parashar, Quinten Sansosti, Rachel Barra, Ramya Ginjupalli, Rennica Huang, Sam Osheroff, Samantha Busch, Sana Hairadin, Sana Pashankar, Sara Rose Shannon, Sheridan Wilbur, Sim Sitkin, Sofia Hidalgo, Sonali Mehta, Sophia Parvizi Wayne, Sophia Rivadeneira, Sophie Finkelstein, sophie holtzman, Sophie Sanda, Sydney Hunt, Tanner Zachem, Taylor Fistel, Taylor lipsich, Tiarra Hughes, uchenna nwoke, Venezia Leone, Will Reynolds, William Strong, Zachary Burd, Zachary McCarthy