NC Jewish Studies Seminar
The NC Jewish Studies Seminar (NCJSS) offers a stimulating and exciting forum for academic engagement on Jewish history, culture, and religion.  Since its inception in 2001 under the name Duke-UNC Jewish Studies Seminar, the seminar has brought together faculty, graduate students, and internationally renowned scholars to discuss cutting-edge work in Jewish Studies. Meetings are held monthly, and papers are distributed in advance for all to read.
The NCJSS is a collaborative partnership of Duke, NC State, UNC-Chapel Hill, and Wake Forest, with participants coming from universities and colleges across North Carolina. Closely coordinated with the NCSU and UNC-Chapel Hill public lecture series in Jewish Studies, the seminar enriches the scholarly climate in the area and strengthens the Jewish Studies programs in the local universities. To read an example of a past seminar, see this blog post from scholar and novelist David Halperin, which also includes video of panelists.
Affliates:
                                                
Fall 2020 – Spring 2021 Seminar Dates and Speakers
Please email Jeremy Buotte (jeremy.buotte@duke.edu) with any questions and to receive a copy of the seminar papers.
---
Fall Semester
Sunday, September 13, 2:00-4:00pm (ET)
Barry Trachtenberg, Wake Forest University: "A mentsh trakht un Hitler lakht": The Yiddish Encyclopedia in Paris, 1933-1940
The paper is an excerpt from Prof. Trachtenberg's book manuscript on the history of the Yiddish Encyclopedia, Di algemeyne entsiklopedye (Berlin, Paris, New York, 1932-1966), under contract with Rutgers University Press.
Barry Trachtenberg is The Michael H. and Deborah K. Rubin Presidential Chair of Jewish History at Wake Forest University and the author of The Revolutionary Roots of Modern Yiddish (Syracuse, 2008) and The United States and the Nazi Holocaust: Race, Refuge, and Remembrance (Bloomsbury, 2018).
Sunday, October 18, 2:00-4:00pm (ET)
Yitzhak Lewis, Duke Kunshan University: What Rhymes with Scholem? Kabbalah as literary trope in the writing of Jorge Luis Borges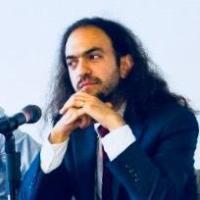 Yitzhak Lewis is Assistant Professor of Humanities at Duke Kunshan University. He has a PhD in Hebrew and Comparative Literature from Columbia University. His interests include comparative literature in Spanish, Hebrew and Yiddish, literary theory and world literature. His book—A Permanent Beginning: Nachman of Braslav and Jewish Literary Modernity—was recently published by SUNY Press. 
Sunday, November 8, 2:00-4:00pm (ET)
Andrew Sloin, Baruch College: Writing the Paris Commune in the Warsaw Ghetto
"Writing the Paris Commune in the Warsaw Ghetto," is the penultimate chapter of Prof. Sloin's in-progress manuscript, Troubled Time: Socialism and the Yiddish Historical Imagination, 1871-1948.
Andrew Sloin is an Associate Professor of History and the Co-Director of the Sandra Kahn Wasserman Jewish Studies Center at Baruch College, City University of New York (CUNY). His first book, The Jewish Revolution in Belorussia: Economy, Race, and Bolshevik Power (Indiana University Press, 2017) received the 2018 Dorothy Rosenberg Prize from the American Historical Association. His new book project, Troubled Time: Socialism and the Yiddish Historical Imagination, 1871-1948, examines the relationship between the writing of popular history in the transnational Yiddish public sphere and the development of socialism in the context of systemic global crisis.
Future Sessions To Be Advertised Soon
---
Spring Semester
Sessions To Be Advertised Soon