NC Jewish Studies Seminar
The NC Jewish Studies Seminar (NCJSS) offers a stimulating and exciting forum for academic engagement on Jewish history, culture, and religion.  Since its inception in 2001 under the name Duke-UNC Jewish Studies Seminar, the seminar has brought together faculty, graduate students, and internationally renowned scholars to discuss cutting-edge work in Jewish Studies. Meetings are held monthly, and papers are distributed in advance for all to read.
The NCJSS is a collaborative partnership of Duke, NC State, UNC-Chapel Hill, and Wake Forest, with participants coming from universities and colleges across North Carolina. Closely coordinated with the NCSU and UNC-Chapel Hill public lecture series in Jewish Studies, the seminar enriches the scholarly climate in the area and strengthens the Jewish Studies programs in the local universities. To read an example of a past seminar, see this blog post from scholar and novelist David Halperin, which also includes video of panelists.
Affliates:
                                                
Fall 2020 – Spring 2021 Seminar Dates and Speakers
---
Fall Semester
Sunday, September 13, 2:00-4:00pm ET
Barry Trachtenberg, Wake Forest University: "A mentsh trakht un Hitler lakht": The Yiddish Encyclopedia in Paris, 1933-1940
The paper is an excerpt from Prof. Trachtenberg's book manuscript on the history of the Yiddish Encyclopedia, Di algemeyne entsiklopedye (Berlin, Paris, New York, 1932-1966), under contract with Rutgers University Press.
Barry Trachtenberg is The Michael H. and Deborah K. Rubin Presidential Chair of Jewish History at Wake Forest University and the author of The Revolutionary Roots of Modern Yiddish (Syracuse, 2008) and The United States and the Nazi Holocaust: Race, Refuge, and Remembrance (Bloomsbury, 2018).
Sunday, October 18, 2:00-4:00pm ET
Yitzhak Lewis, Duke Kunshan University: What Rhymes with Scholem? Kabbalah as literary trope in the writing of Jorge Luis Borges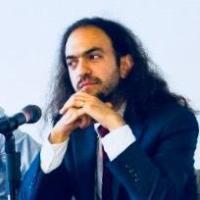 Yitzhak Lewis is Assistant Professor of Humanities at Duke Kunshan University. He has a PhD in Hebrew and Comparative Literature from Columbia University. His interests include comparative literature in Spanish, Hebrew and Yiddish, literary theory and world literature. His book—A Permanent Beginning: Nachman of Braslav and Jewish Literary Modernity—was recently published by SUNY Press. 
Sunday, November 8, 2:00-4:00pm ET
Andrew Sloin, Baruch College: Writing the Paris Commune in the Warsaw Ghetto
"Writing the Paris Commune in the Warsaw Ghetto," is the penultimate chapter of Prof. Sloin's in-progress manuscript, Troubled Time: Socialism and the Yiddish Historical Imagination, 1871-1948.
Andrew Sloin is an Associate Professor of History and the Co-Director of the Sandra Kahn Wasserman Jewish Studies Center at Baruch College, City University of New York (CUNY). His first book, The Jewish Revolution in Belorussia: Economy, Race, and Bolshevik Power (Indiana University Press, 2017) received the 2018 Dorothy Rosenberg Prize from the American Historical Association. His new book project, Troubled Time: Socialism and the Yiddish Historical Imagination, 1871-1948, examines the relationship between the writing of popular history in the transnational Yiddish public sphere and the development of socialism in the context of systemic global crisis.
---
Spring Semester
Friday, January 22, 1:00-3:00pm EST
Devin E. Naar, University of Washington: The Ladino Left and the Limits of American Jewish Radicalism
Devin E. Naar is the Isaac Alhadeff Professor in Sephardic Studies, Associate Professor of History, and faculty at the Stroum Center for Jewish Studies in the Jackson School of International Studies at the University of Washington. As the founder and chair of the Sephardic Studies Program, he has developed the largest digital repository of Ladino texts in the country and initiated a series of public programs and digital humanities projects to render greater access to the histories, cultures, and languages of Sephardic Jews. His first book, Jewish Salonica: Between the Ottoman Empire and Modern Greece, published by Stanford University Press, won a National Jewish Book Award (2016) and the prize for best book from the Modern Greek Studies Association (2017). As a fellow in the University of Washington's Simpson Center for the Humanities (2020-2021), he is developing his new project, "Another Race Problem": Sephardic Jews, Race, and Migration in the American Empire.
Sunday, January 31, 4:00-6:00pm EST
Sunny Yudkoff , University of Wisconsin–Madison: The Joys of Yiddish: A Reception History
Sunny Yudkoff is an assistant professor at the University of Wisconsin–Madison in the Department of German, Nordic,  and Slavic, and the Mosse/Weinstein Center for Jewish Studies. Her first book, Tubercular Capital: Illness and the Conditions of Modern Jewish Writing (Stanford University Press, 2019) received the Salo Wittmayer Baron Book Prize for an outstanding first book in Jewish Studies. She is currently at work on her second project entitled Against Jewish Humor: Toward a Theory of Yiddish Joy. She is also the Peer Review editor of In geveb: A Journal of Yiddish Studies.
Monday, February 8, 6:00pm EST – Public Lecture
Carole Fink, The Ohio State University, The Unexpected Arrivals: Soviet Jews in West Germany before 1990
Carole Fink is Humanities Distinguished Professor of History Emerita at The Ohio State University.  She is the author and editor of fifteen books, most recently West Germany and Israel: Foreign Relations, Domestic Politics, and the Cold War, 1965-1974; Cold War: An International History; and Writing 20th Century International History: Explorations and Examples.  Two of her earlier books – The Genoa Conference: European Diplomacy 1921-1922 and Defending the Rights of Others: The Great Powers, the Jews, and International Minority Protection, 1878-1938 – were awarded the George Louis Beer Prize of the American Historical Association. Her biography of the French Jewish historian and resistance hero, Marc Bloch: A Life in History, has been translated into six languages.  Since retiring in 2011, Dr. Fink has continued to lecture nationally and internationally and has been a guest professor in China, Israel, Germany, and Australia.  She is currently at work on a global history of the 1980s.
Sunday, February 28, 2:00-4:00pm EST
Mirjam Thulin, Leibniz Institute of European History Mainz & Katz Center for Advanced Judaic Studies, Networks of Kinship and Business: The Court Factor and Hungarian Chief Rabbi Samson Wertheimer (1658–1724) and his Family
Respondent: Michael Silber, Hebrew University of Jerusalem
Mirjam Thulin is a research associate at the Leibniz Institute of European History (IEG) in Mainz and teaches at Goethe University, Frankfurt am Main. For the academic year 2020/21, she is on leave at the Herbert D. Katz Center for Advanced Judaic Studies in Philadelphia. Her research interests include the history of knowledge and science, the history and culture of Jews in the early modern and modern period, and the history of Jews in the US. Thulin received her DPhil in History from the University of Leipzig with a thesis titled "Kaufmann's News Service: A Jewish Scholarly Network in the 19th Century." Her current second book/habilitation project "Economy, Kinship, and Jewish Politics: The History of the Wertheimer Family, c. 1650–1900" (working title) is a history of the Viennese court factor family Wertheimer in the 17th to the 19th centuries.
Sunday, March 21, 2:00-4:00pm EDT
Valentina Grasso, 2020-21 Shatzmiller Graduate Fellow and Ph.D. candidate at the University of Cambridge: Late Antique Judaism: the Case of Arabia
After Classical Studies in high school, I obtained a bachelor degree in 2015 at the University of Catania in Semitic Philology (110/110cum laude). At Catania I mainly studied Imperial Aramaic and Classical Arabic. My thesis was focused onthe Philistines and the early alphabets of the Mediterranean. During the same year, I attended the Oxford University Biblical Summer School and later I enrolled for the Master's degree in "Oriental Languages and Cultures" at the University of Naples "L'Orientale" where I continued to study both Classical Arabic and Biblical Hebrew. My M.A. dissertation in Islamic Studies was entitled "The Pre-Islamic Milieu of Arabia. An Inquiry into the Jāhiliya and the Rise of the Latest Abrahamic Religion" (110/110cumlaude). I spent my last M.A. year in England, as an Erasmus student at SOAS, University of London, where I have also studied Farsi. During my studies, I have also attended courses at the University of Oxford and Princeton University.I am currently a final-year Ph.D. candidate at the University of Cambridge working on the history of late antique pre-Islamic Arabia under the supervision of Professor Garth Fowden. I am interested in the religious history of the first millennium, and the interlinked development of rabbinic Judaism, patristic Christianity and early Islam. Throughout my academic career, I have always been interested in Jewish Studies, as testified by my study of Aramaic and Biblical Hebrew during my B.A. and my M.A. I look forward to deepening my understanding of the ancient, late antique and Medieval Jewish World which are at the core of my academic research by attending the NC Jewish Studies Seminar.
Joshua Shelly, 2020-21 Shatzmiller Graduate Fellow and Ph.D. candidate in the Carolina-Duke Graduate Program in German Studies: Imagining the Haifa Bay from the Schlachtensee: Arnold Zweig, Hermann Struck and Das neue Kanaan
Joshua Shelly joined the Carolina-Duke German Studies program in Fall 2016. He holds a BA in German and History from Wayne State University (2011) and an MLS(2013) and MA in Religious Studies (2015) from the University of Illinois at Urbana-Champaign. Hisresearch field covers German Jewish literature during the latenineteenth and early twentieth centuries. In his dissertation, he explores the role of German Jewish literature, especially utopian works, in imagining future Jewishspaces, including the future Jewish state. His research has been supported by fellowships from the Leo Baeck Institute (2019–2020) and the Berlin Program forAdvanced German and European Studies (2020–2021).
Sunday, April 11, 3:00-5:00pm EDT
Matthew Creighton, 2020-21 Shatzmiller Graduate Fellow and Ph.D. candidate at the University of Chicago Divinity School: The Weight of Phylogeny: Freud on Judentum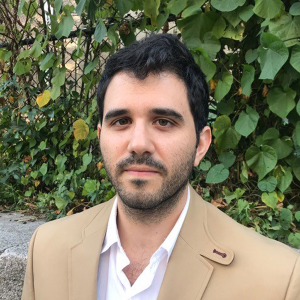 Matthew Creighton is a doctoral candidate in the field of Religion and Literature at the University of Chicago Divinity School. His areas of research interest are in comparative theology, psychoanalysis, and modern literature, and he has taught courses on Judaism, literary criticism, and theories and methods in the study of religion. He is currently completing a doctoral dissertation on representations of fathers and sons in German-Jewish literature, and their bearing on religious identities and commitments. He can be reached at mcreighton@uchicago.edu.
Lea Greenberg, 2020-21 Shatzmiller Graduate Fellow and Ph.D. candidate in the Carolina-Duke Graduate Program in German Studies: The Curious Daughter in Leopold Kompert's Ghetto Fiction
Lea Greenberg is a Ph.D. candidate in the Carolina-Duke Graduate Program in German Studies. She earned a B.A. in German with a Concentration in Russian, Central and East European Studies from Grinnell College in 2014. After graduation, she worked as a Fulbright English Teaching Assistant in Berlin. Her dissertation research considers issues of language, literacy, and gender in German and Yiddish literature. In 2018–2019, Lea was a fellow of the Berlin Program of the Freie Universität Berlin and German Studies Association. She currently holds a Mellon/ACLS Dissertation Completion Fellowship.
David Orenstein, 2020-21 Shatzmiller Graduate Fellow and Ph.D. student at Duke University: Mainline Mimesis, Evangelical Emulation, & Shabbat
David Orenstein is a PhD student in the History of Judaism field of study within the Graduate Program in Religion at Duke University pursuing minors in American Religion and Political Science as well as certificates in Middle East Studies, Writing in the Disciplines, and College Teaching.He holds an MA degree in Religious Studies from Duke University and MA degrees in Jewish Professional Leadership as well as Near Eastern and Judaic Studies from Brandeis University.David also received BA degrees in Jewish Studies and Psychology as well as minors in Hebrew and Religious Studies from Indiana University Hutton Honors College.