The Last Girl Project (LGP) is a project dedicated to understanding the prevalence, drivers, responses, and realities of domestic minor sex trafficking (DMST) and commercial sexual exploitation of children (CSEC) in contemporary USA.
Defined as the recruitment, harboring, transportation, provision, obtaining, or advertising of a minor for the purpose of a commercial sex act involving the exchange of anything of value – money, drugs or a place to stay –child sex trafficking affects families and communities everywhere. Despite the more sensationalized image of child sex trafficking, one where foreign children are sex trafficked into the country, current research actually suggests that this problem is worse for domestic (US born, US citizens) children. Children are being sold for sex in every state in our nation. They are both seen and unseen – at truck stops and in suburban shopping malls, in cities and in rural communities, in poor neighborhoods and in wealthy subdivisions, online or in person.
Despite domestic minor sex trafficking's ubiquity, where the FBI estimates more than 300,000 children are abused and sometimes lost, every year, there is not enough high-quality, peer-reviewed research regarding this national scourge.
The topic is incredibly complex, and the realities are stark. We can no longer ignore what is happening, and the first critical step toward meaningfully addressing the issue lies in making it understandable – quantitatively and qualitatively. We aim to create a full understanding of the issue so that we can collaborate to create solutions to bring about its end. Tackling this crisis requires a more systematic understanding of its prevalence, dynamics and drivers.
This project aims to add to the ongoing work that's being done across the country in various academic and non-academic platforms, and hopes to become a place where anyone working to eliminate domestic minor sex trafficking & commercial sexual exploitation of children in the USA can go to find reliable and consistent data and analysis on this problem.
We hope this work will:
Develop a shared understanding of the ecology of domestic minor sex trafficking in the United States including its prevalence, location and drivers by sharing all data collected.
Provide a space for those working to eradicate domestic child minor sex trafficking resource and those supporting survivors and victims to share best practices and learn of latest research findings and policy developments.
Contribute through robust research to ongoing efforts to eradicate this injustice.
Research Leadership
suzanne.shanahan@duke.edu
919-660-3033
102 West Duke Building
PO Box 90432
Durham, NC 27708
Suzanne Shanahan, Principle Investigator
Suzanne Shanahan is Nannerl O. Keohane Director of the Kenan Institute for Ethics and Associate Research Professor in Sociology. Suzanne also oversees DukeEngage, the university's signature civic engagement program, and ran the DukeEngage-Dublin program for 11 years. Additionally, she directs the Kenan Refugee Project, a 6-country, community-based project on forced migration. Her current research focuses on forced migration and moral responsibility. More specifically, Suzanne's work explores the impact of displacement on refugee well-being and moral boundaries before and after resettlement with particular focus on Bhutanese, Iraqi and Syrian refugees. This community-based research is a collaboration with communities both in the Middle East and with newcomer communities in North Carolina. Other work explores the dynamics of racial collective action in the United States and Europe. She is recipient of the Robert B. Cox Distinguished Teaching Award and the Dean's Distinguished Service Award. Suzanne received her PhD from Stanford University.

tra.tran@duke.edu
919-660-3033

Tra Tran, Project Director
Tra Tran is the Program Director of the Human Rights Center. She manages two vertically integrated research programs, the Kenan Refugee Project (KRP) and the Last Girl Project (LGP). KRP examines the contemporary dynamics of displacement, working with refugee and asylum seeking communities globally. LGP focuses on examining the drivers of domestic minor sex trafficking, working to understanding this problem to inform policies on all levels of governance.
Tra started working with the Kenan Institute for Ethics as an undergraduate, traveling to Jordan collecting life stories with refugees through the Duke Immerse program in 2014. After graduating Duke with a double major in psychology and cultural anthropology, she worked as a research associate for KRP and completed a master's of science at DGHI before returning to the Kenan Institute as the Program Director of the Human Rights Center. She's interested in the intersections of trauma, child development, resilience, governance, and resilience on all levels of life, from the individual to the multi-lateral.
Survivor-Advisory Board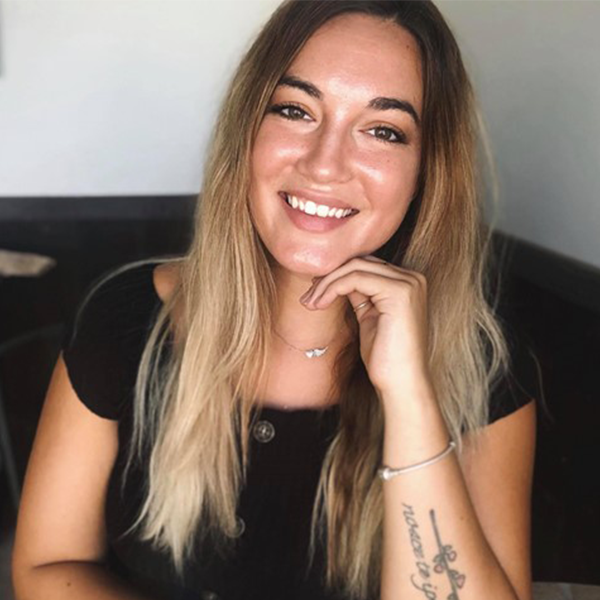 Kayla Bright
Kayla Bright overcame the odds of abuse and trafficking in her life. She believes that creating space for authentic conversations about taboo topics is vital to spreading awareness. She now works to combine research and life experience to show others healing from trauma is possible. As a survivor advisor, she has a passion for not only educating the community on what human trafficking is, but how to join the fight to end human trafficking. You can find Kayla on Instagram @prodigalbecoming, or by emailing her.
DukeEngage Project Coordinator
Caroline Doherty

Caroline Doherty is the project coordinator for the Last Girl Project. She is from Greenville, NC and is a graduating member of the class of 2021. She majored public policy with minors in global health and chemistry. In the fall, she will be attending the Johns Hopkins Bloomberg School of Public Health to pursue an MHS in Health Economics and Outcomes Research. She joined the Last Girl Project as an undergraduate and has been working on the team as a researcher for the past year. As the project coordinator, she is responsible for helping the team get access to resources, facilitating cooperation, ensuring dedication and hard work, and making this experience beneficial and enjoyable for all parties. Caroline joined the Last Girl Project because this work is producing reliable statistics and research that can be used to inform policy changes with the goal of eradicating sex trafficking.