Going Over Home: A Search for Rural Justice in an Unsettled Land
November 19, 2019 @ 7:00 pm

-

8:30 pm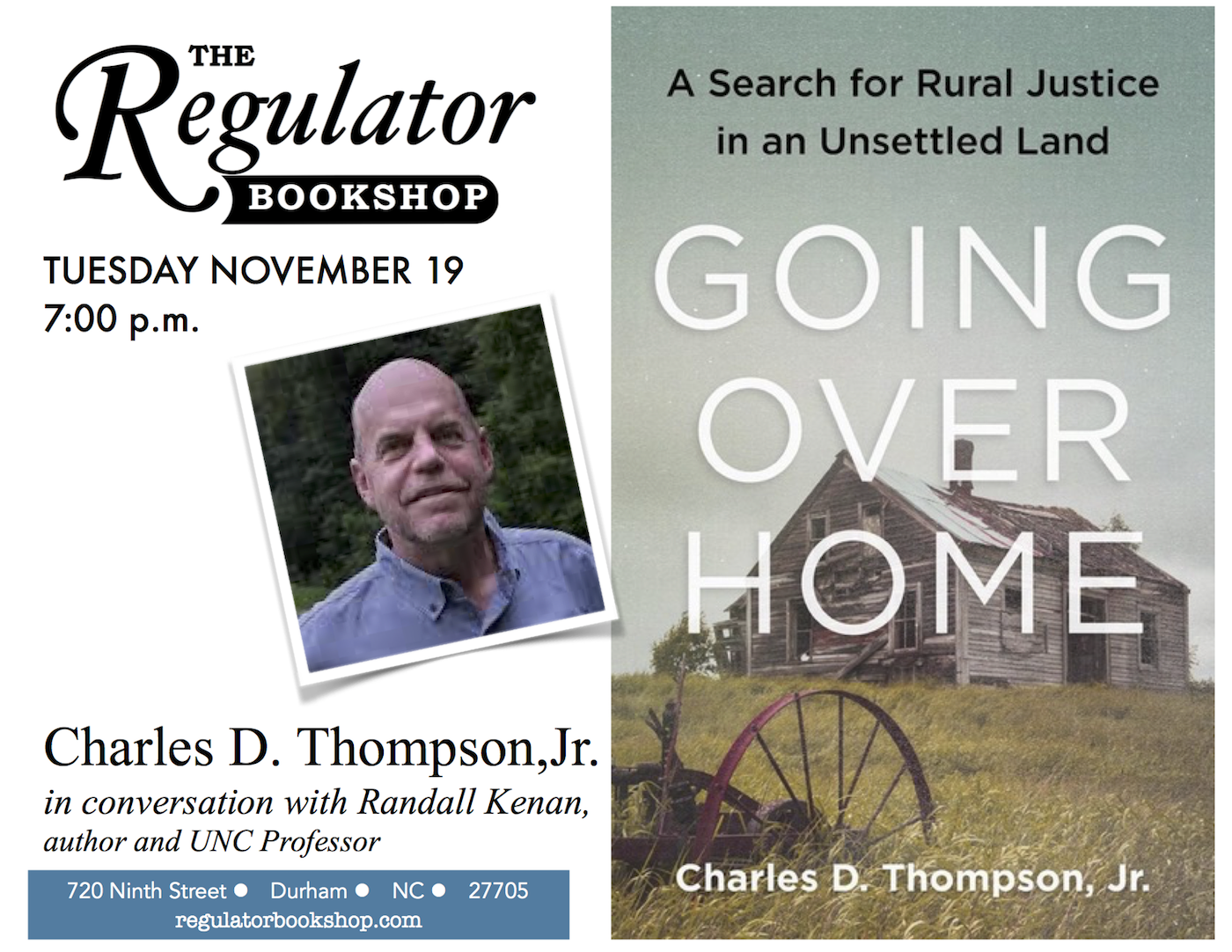 Charlie Thompson, "Going Over Home: A Search for Rural Justice in an Unsettled Land," in conversation with Randall Kenan
The Regulator welcomes Charlie Thompson, author of Going Over Home: A Search for Rural Justice in an Unsettled Land, for a reading and book signing. Thompson will be joined in conversation by Randall Kenan. Free and open to the public.
In Going Over Home: A Search for Rural Justice in an Unsettled Land, Thompson shares revelations and reflections, from cattle auctions with his grandfather to community gardens in the coal camps of eastern Kentucky, racial disparities of white and Black landownership in the South to recent work with migrant farm workers from Latin America. In this heartfelt first-person narrative, Thompson unpacks our country's agricultural myths and addresses the history of racism and wealth inequality and how they have come to bear on our nation's rural places and their people. Born in southwestern Virginia into an extended family of small farmers, Thompson witnessed the demise of every farm in his family. Over the course of his own life of farming, rural education, organizing, and activism, the stories of his home place have been his constant inspiration, helping him identify with the losses of others and to fight against injustices.
Charles D. Thompson, Jr. is a Senior Fellow at the Kenan Institute of Ethics and Professor of the Practice of Cultural Anthropology and Documentary Studies at Duke. He is the author or editor of six previous books, including Border Odyssey: Travels Along the U.S./Mexico Divide. He has also directed six documentary films, all of which have focused on rural life either in the United States or Latin America. Thompson's most recent film, produced by Farm Aid in 2017, is Homeplace Under Fire. It concerns the thirty-year history of farm advocacy as supported by Willie Nelson and others. Currently Thompson is at work on a new film about Appalachian small farming. He's also a champion of a number of community causes that center on food, farming, and justice.
Randall Kenan is Professor of English and Comparative Literature at UNC–Chapel Hill. In addition to his professorship, Randall Kenan is the author of a celebrated novel, A Visitation of Spirits; two works of nonfiction, Walking on Water: Black American Lives at the Turn of the Twenty-First Century and The Fire This Time; and an award-winning collection of stories, Let the Dead Bury Their Dead. He edited and wrote the introductions for The Cross of Redemption: The Uncollected Writings of James Baldwin and The Carolina Table: North Carolina Writers on Food. Kenan worked for Alfred A. Knopf, Inc in the 1980s, has taught writing at Sarah Lawrence College, Columbia University, Duke University, the University of Mississippi, and the University of Memphis. Among his other honors and awards are a Guggenheim Fellowship, The Whiting Writers' Award, the North Carolina Award, the American Academy of Arts and Letters' Rome Prize, and induction into the Fellowship of Southern Writers, and the North Carolina Literary Hall of Fame.