Bejan, Bowlin & Atkins: Civility & Tolerance as Virtues in the University
March 21, 2019 @ 5:00 pm

-

7:00 pm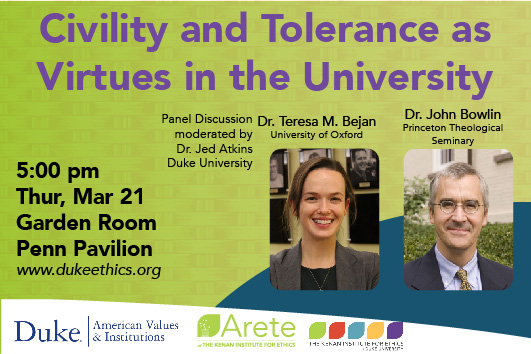 Teresa M. Bejan is Associate Professor of Political Theory and Fellow of Oriel College at the University of Oxford. Before coming to Oxford, she taught at the University of Toronto and as a Fellow in the Society of Fellows in the Humanities at Columbia University. She received her Ph.D. with distinction from Yale in 2013, and her dissertation was awarded the American Political Science Association's Leo Strauss Award for the best dissertation in political philosophy in 2015. In 2016, she was elected as the final Balzan-Skinner Fellow in Modern Intellectual History at Cambridge. Her inaugural lecture, "Acknowledging Equality," can be viewed here.
Dr Bejan publishes regularly in popular and scholarly venues. Her first book, Mere Civility: Disagreement and the Limits of Toleration (Harvard University Press, 2017) was called "penetrating and sophisticated" by the New York Times, and her work has been featured on PBS, WNYC, CBC radio, Philosophy Bites and other podcasts. In addition to her many articles in academic journals and edited volumes, she has written on free speech and civility for The Atlantic and The Washington Post. She is currently at work on a new book on the history of equality before modern egalitarianism supported by a Leverhulme Research Fellowship.
John R. Bowlin is the Robert L. Stuart Professor of Philosophy and Christian Ethics at Princeton Theological Seminary. He earned his MDiv from Union Theological Seminary in the City of New York, and his MA and PhD from Princeton University. He is a member of the American Academy of Religion, the Society of Christian Ethics, and the Society for Values in Higher Education, and has served on the editorial board of the Journal of Religious Ethics since 2003. His areas of specialization are Christian ethics, moral philosophy, social ethics and criticism, and the history of moral theology, and his courses cover ethics and the problem of evil, ethics and politics in Augustine, war and Christian conscience, and friendship, love, and justice. He is a member of the Presbyterian Church (USA).
Jed W. Atkins is an Assistant Professor of Classical Studies at Duke University. His research focuses on Greek, Roman, and early Christian moral and political thought. In addition, he works on the modern reception of ancient political thought. He is the author of Cicero on Politics and the Limits of Reason: The Republic and Laws (Cambridge, 2013) and is co-editing (with Thomas Bénatouïl) the forthcoming Cambridge Companion to Cicero's Philosophy.