Evan – The Invisible Population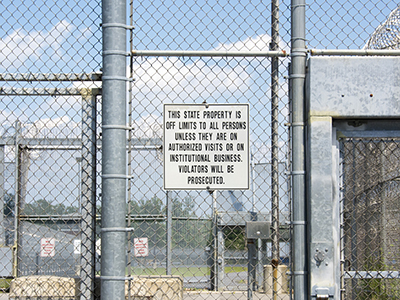 Three years ago, I was introduced to my high school classmate John* by a mutual friend. An upbeat, outgoing, and somewhat goofy boy, he was loved by classmates and teachers alike. Though we did not spend much time alone, he was always warm and welcoming when I would encounter him at lunch or in the hallway. One day, as we sat amongst friends at the lunch table, casually chatting, John divulged to me that his family life differed from most of our peers. As casually as if he were telling me he had eaten a bagel for breakfast, he revealed that his father was serving a ten-year sentence in prison for attempted manslaughter. At the age of ten, his father was arrested before his eyes, and since then, he has grappled with anxiety, depression, and Post Traumatic Stress Disorder.
Through additional conversation with John, I learned that he was only able to visit his father on special occasions like on his birthday, Thanksgiving, and Christmas. As his mother and grandmother were unable to afford to take off of work to drive him the 100+ miles necessary to visit the prison, John's relationship with his father, whom John spoke with every day prior to his incarceration, was reduced to a few visits less than ten hours out of the year.
Making assumptions based on social stigma and media stereotypes, I wrongly believed that those affected by incarceration were all from urban areas plagued by radical policing and racial profiling. Because most inmates reside in low-income homes, with about half of incarcerated parents reporting a monthly income of less than $1,000 prior to arrest1, I did not think this problem would exist within my sanitized, suburban hometown of Columbia, Maryland, an affluent community with great schools, low crime, and an overall air of contentment and peace of mind. Ranked sixth in Money Magazine's "America's Best Places to Live"2, Columbia was the last place that I would imagine there could be a child struggling with losing a parent to incarceration.
John's story was the first of many stories of children of incarcerated parents that I would go on to hear, helping me to understand that there is no one singular story of a child of an incarcerated parent. More than 2.7 million children in the U.S. have an incarcerated parent.3 Children of incarcerated parents are wealthy and they are poor. They live in urban cities and in rural towns. They are black and they are white. Their parents are blue-collar workers and their parents are white-collar workers.
Children always experience the loss of a parent as a traumatic event regardless of the circumstances surrounding the parent's departure, but incarceration is especially detrimental due to the added elements of shame and stigma. Unlike responses to other forms of abandonment, sympathy is rarely given to children who are victims of abandonment due to imprisonment. Often referred to as the "invisible population", children of incarcerated parents receive a lack of mainstream attention, advocacy, and support.
This summer, I have returned to my hometown to conduct investigative research on the population of children of incarcerated parents in the Baltimore-Washington corridor and amplify their stories to a greater audience. In addition to my research, I am using my Kenan Fellowship to fund Project InTouch, an organization I founded to provide free transportation for children in the Baltimore-Washington corridor to visit their incarcerated parents, alleviating the financial barriers that prevent many children from being able to visit their incarcerated parent(s).
Through interviews and photo documentation of current and former children of incarcerated parents, I seek to put a face to the "invisible population" while educating the world on the ethics of justice and care for children affected by incarceration. I aim to show that while each individual's experiences are unified through the shared experience of losing a parent to incarceration, there is no single narrative or "face" of a child of an incarcerated parent. By revealing the uniqueness, nuances, and individual voices of children of incarceration parents through personal narratives and documentary photography, I hope to help lower the stereotypes and stigma associated with parental incarceration.
As an individual who has a close, involved relationship with both of her parents, I feel it is my ethical obligation to support the welfare of those who have been stripped of their basic right to have a relationship with their parent(s). Through the accumulation of my research, I seek to ask the following ethical inquiries: How can we, as a society, provide adequate support and compassion for incarcerated individuals and their families without appearing to condone the parent's criminal behavior? In what ways, outside of political engagement, can an individual implement a solution that can make a significant impact on a marginalized community (i.e. children of incarcerated parents)? How can the stories of families affected by incarceration be shared in an ethically responsible way?
By the end of the summer I hope to establish a cohesive body of narratives and photos that give insight to the experience of being the child of incarcerated parent. Because of the sensitive nature of the topic of incarceration, I anticipate it won't be easy to find caretakers who are willing to let me sit down and talk their children about a topic so stigmatized in our society. To document at least five stories, each distinctly unique, thought-provoking, and eye-opening, would be a success.
*Name and details changed for anonymity
1 Broken Bonds: Understanding and Addressing the Needs of Children with Incarcerated Parents, http://www.urban.org/sites/default/files/alfresco/publication-pdfs/411616-Broken-Bonds-Understanding-and-Addressing-the-Needs-of-Children-with-Incarcerated-Parents.PDF
2 Best Places to Live 2014, http://time.com/money/3312314/columbia-ellicott-city-maryland-best-places-to-live/
3 Collateral Costs: Incarceration's Effect on Economic Mobility, http://www.pewtrusts.org/~/media/legacy/uploadedfiles/pcs_assets/2010/collateralcosts1pdf.pdf