Disrupting the Canon, (Re)-Claiming the South
By Michaela Dwyer
Take A): a lot of what's talked about regarding the American South is a function of what's not talked about.
There's an unspoken tension that carries throughout the 2005 film Junebug, directed by North Carolina native Phil Morrison. Madeleine (Embeth Davidtz), a Chicago-based art dealer specializing in "outsider art," has journeyed south with her husband George (Alessandro Nivola) to the area around Pinnacle, North Carolina, where he grew up. The trip's purpose is ostensibly to woo a particular self-taught "outsider" artist for Madeleine's gallery. On the other hand, and as the film gradually leads us to believe, George and Madeleine's complicated homecoming and reunion with George's sprawling Southern family are precisely the point of the trip.
This is the first time I've been able to say, with pleasurably full seriousness, that I'm "curating a film series." Indeed—one of the many hats Nathan and I wear as Bear Fellows is film series curator, responsible for planning the annual Ethics Film Series, which will span four films over four months in the spring of 2014. Nathan and I have tossed around thematic ideas for the festival that reflect our shared humanities background and that run the gamut from "family" to "the ethics of artistic revision." But we kept returning to another background we share, and one that continues to compel us: the American South. Nathan and I both grew up in North Carolina, and obviously have chosen to continue living here. My decision to stay in the Triangle after graduation was intentional and long-coming, motivated by my love of this community, which I'd defend any day for its accessibility, diversity, and engagement—whether it be political, cultural and artistic, or intellectual. Living here also means being familiar with the term "the New South." More often than not, it's attached to entrepreneurial or artistic ventures—a hip new tapas bar or an alt-country band—that celebrate the American South as politically progressive and economically vibrant. The "New South" is almost aspirational, staked in Antebellum roots, but without the baggage of racism and segregation.
Ironically, the "New South" isn't a new term. It's been used in multiple iterations since the Reconstruction Era, in opposition to the idea of the "Old South"—one defined by a plantation and slave-based economy—and, on a more micro-level, a social standard of reticence, genteel civility, and defense of the status quo. These cultural mores are traditional insofar as they reinforce tradition. The basic premise of Junebug throws the contemporary and traditional together in a way that's impossible to tidy up—especially in the film's 106 minutes, and especially through the framing device of Madeleine's relationship with the fictional outsider artist David Wark (Frank Hoyt Taylor). The genre of "outsider art" was conceptualized by 20th century French artist Jean Dubuffet to refer to artwork produced outside of official culture and/or institutions as well as the traditional artistic canon. While Dubuffet used the term largely to describe art produced by children and by mental asylum patients (the opening scenes of Junebug depict an auction of an autistic artist's work), "outsider art" has expanded to refer to the work of self-taught artists, people who carve creative space outside of the mainstream. The American South has long been considered a regional hotbed for these artists who exist and work apart from a creative economy largely dictated by the 'art world' (based in Durham, Outsiders Art and Collectibles is devoted to this type of work). The self-sustaining 'art world,' that is, represented in Junebug by the NYC gallerist to whom Madeleine fears losing David Wark's muralesque paintings.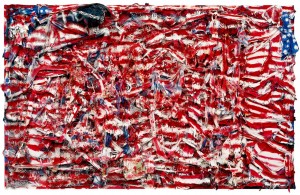 A recent New Yorker article profiles the unique relationship between Alabama-born outsider artist Thornton Dial and collector/art historian Bill Arnett. Arnett fervently defends work by the likes of Dial, calling it art that "wasn't created to entertain people or to sell to rich people…it was created to commemorate the culture itself, so that it could last, so that grandmamma could tell grandson, 'This is what we're about, child.'" Detractors consider Arnett's patronage ethically problematic, even a form of "colonialism," similar to midcentury white male music producers who became rich "by exploiting black songwriters." Likewise, Madeleine's worldliness—she is the daughter of diplomats, having lived and been educated around the globe—and stature in the art world stands in direct contrast to George's sprawling Southern family, and to Wark's creative context. As the film unfolds over several days of George and Madeleine's visit, we watch the global and the local rub up against each other in unexpected ways, at times traumatic and other times connective, even reparative. In the space of the film's narrative, all become outsiders in some dimension. All assumptions, all relationships are destabilized—and all of this happens, crucially, in a rural North Carolina town.
As professor, historian, and activist Tim Tyson warned my South in Black and White class this past spring, there is a danger in fetishizing the South's—and especially the "New South's"— complexity. There's a danger in thinking about it as an "imagined space" onto which our collective desires and prejudices can be projected. This is part of the reason why Nathan and I are interested in showing films like this one as a way to open up discussion about the seductiveness and tensions of terminology like the "New South." We want to disrupt the canon before it forms, to claim a space informed by, but outside of, mainstream discourse. Our collective intention, even our moral obligation, is to be intentional—about the art we consume and make, about the cities we live in, about the standard of culture we create and promote (this past spring, I wrote an editor's note for the Duke Chronicle that treats similar themes). Your voice is an instrumental part of this process, and we invite your feedback as we move toward a film festival this spring centered in a contemporary American South that's very much still under revision.