Asa King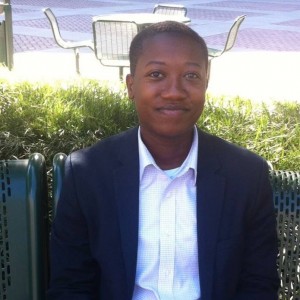 Asa King most recently was a Staff Attorney with the Transgender Law Center and previously worked as a public defender in Charlotte, North Carolina.  In October 2016 Asa visited Duke to participate in a Conversation in Human Rights panel addressing the incarceration of transgender people. In this interview, Asa answers questions about their personal background, and the evolution of their career and interests. DHRC at KIE Project Director Suzanne Katzenstein conducted this interview electronically.
Suzanne Katzenstein: Where did you grow up and what were your early years like?
Asa King: I grew up in Jacksonville, Florida, which is a politically and socially conservative city on the Bible Belt.  I grew up in a poor neighborhood that was about 97-99% black.  In Jacksonville, I saw few safe opportunities to live authentically in a manner that respected my gender identity and expression.  I knew that the only way I would get the opportunity to live openly as my true self would be to leave Jacksonville.
I was incredibly lucky to be accepted into Cornell University, which was both a launching point for my career and ability to explore my gender identity openly for the first time.
SK: How did you become interested in human rights work generally and transgender rights specifically? Did you work on other issues before focusing on transgender rights? What explains the evolution of your interests?
AK: Growing up in such a racially and economically polarized place like Jacksonville, Florida gave me with a strong intellectual interest in social inequality.  I also always had a fascination with the legal profession, so I suppose it's no coincidence that I became a public interest lawyer.  I was a social activist with several social justice groups that focused on racial justice and LGBTQ advocacy before entering law school.  These experiences led me to become a public defender. While I was a public defender I saw a very strong connection between the transgender community and targeted criminalization in the form of biased policing against the transgender community, harsher sentencing for my transgender clients, and deplorable conditions for transgender people in jails and prisons.  I joined the Transgender Law Center (TLC) to combine my interests in direct representation of transgender people and community organizing on behalf of the LGBTQ community.
SK: What did your work at the Transgender Law Center entail? What did your day-to-day look like?
AK: I held the position of Southern Regional Staff Attorney while at the Transgender Law Center.  I was the first staff person for TLC's collaboration with Southerners on New Ground (SONG), a southern regional grassroots organization that focuses on advocacy efforts on behalf of LGBTQ people living in the South.  TLC wanted to intentionally expand its advocacy to include a more directed focus on supporting transgender and gender-nonconforming people living in the South while SONG sought to add policy advocacy and legal support to its grassroots organizing.
As you can imagine, everyday was different depending on changes in legislation and the nature of requests we received for legal assistance.  I gave presentations to policy stakeholders such as attorneys, community members, and elected officials about issues facing transgender people including the recent House Bill 2 legislation and the experiences of transgender people in the criminal justice system.  TLC receives over 2,000 requests for legal help each year and several hundred of these requests come from transgender people and their families who live in the South.  I worked to respond to these legal requests and directly represented transgender and gender non-conforming clients along with other members of the TLC legal team. I also acted as a policy adviser to SONG in support of their efforts to achieve policy and legislative changes.  For example, I assisted SONG campaign organizers in their negotiations with the Durham Police Department for a LGBTQ specific police directive guiding police behavior in interactions with the LGBTQ community.
SK: What have been the most rewarding and challenging parts of your work?
AK: I cannot imagine a more exciting time in history to be a transgender advocate.  The discussion of gender identity and expression is in mainstream American discourse for the first time in history.  Instead of a myopic view of the transgender community only being comprised of drag queens and sex workers, the American public is developing a broader view of people in the transgender community that represents the diversity of experiences of transgender people.
This collective curiosity and interest has been rewarding because it has provided an opportunity to give voice to the experiences of transgender people and to win policy changes for transgender people.  However, the heightened visibility of transgender people has also made transgender people more frequently targets for violence and discrimination.  Far too often the targets of this violence are black and Latina transgender women. It has been a challenge to see so much oppression directed at the transgender community while seeing so few solutions for improvement being implemented and even fewer resources from government agencies and charitable foundations reaching the most affected transgender individuals.  Even TLC, the largest transgender organization in the world, can only afford to provide direct representation to a small percentage of the people that request legal help.  Moreover, as an individual advocate, I have often felt that there are not enough hours in the day to help all of the individuals that reach out to me for help.
SK: In what ways has working for the Transgender Law Center reaffirmed or changed your views about transgender rights in the U.S.?
AK: Working for TLC provided me with a more expansive view of what the transgender community looks like in the United States.  Growing up transgender in the Black community in Jacksonville, Florida was quite an isolating experience that left me with the feeling like I was one person in a very small community of transgender people.  I truly feared what the future would look like if I decided to come out.  I wondered: "Would I be able to find a job? Would I be safe in public?"  While I still have these fears and many others, working aside and meeting a wide variety of transgender people from all walks of life has given me a better appreciation of the resilience and vibrancy of the transgender community.
SK: What advice do you have for students who want to work on transgender issues?
AK: Expand your idea of what it looks like to work on transgender issues to be broader than just full-time employment for a non-profit organization that works on transgender issues.  Opportunities for employment in this area are slim and the vast majority of people working on transgender issues are not working at a non-profit organization.  The transgender rights movement needs people advocating for change in all fields, not just in the non-profit world.  It also needs people who are transgender and those who are not.  It needs people from all races and socio-economic backgrounds.
The first place to start is self-education of transgender issues and a close examination of how transgender issues are connected to your community and your lived experience.  While some people will have a close connection to the issues from their personal background, we all have a part to play in staying better informed about transgender issues and looking for ways to improve the experiences of transgender people in our communities.