Leading Change, Being Changed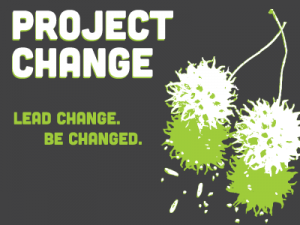 Next week will be one of the busiest and most exhausting of my entire year. It will also certainly be one of the best. Monday marks the sixth year of Project Change, KIE's pre-orientation program and my fifth year with the program. Co-sponsored with the Women's Center, Project Change takes 21 Duke students and teaches them about community engagement and ethical leadership in their new home, Durham.
If you do a Google search on Project Change, affectionately called PChange, you will find few details. Our official description is less than 150 words. And yet, every year we have students willing to jump off the cliff of uncertainty in order to learn something about themselves. So I can't tell you the nitty gritty of my experience, but I can tell you about the way it's impacted me.
I arrived with 20 other Duke students on West Campus, and I was scared out of my mind. I come from rural North Carolina, and while most people have the realization that high school hadn't prepared them for college at some point, I knew that before I even arrived. Was I not going to know about a current event that everyone would be talking about? Would they all love the same author I had never heard of? What if they were all super accomplished, and I was just a fluke? Those questions all plagued me, but my real fear was that I just wasn't 'smart' enough. I got out of the car, grabbed my bags, hugged my mom goodbye, and walked into the Women's Center knees knocking. Then suddenly things started, and I didn't have time to worry about the questions that had raced through my mind only moments ago. Like I said, I can't give you details, but I can tell you that Project Change is challenging; mentally, socially, physically, emotionally, ethically and intellectually challenging.
I worked with incredible people, many of whom are still my closest friends. I learned about teamwork, communication, community engagement, leadership, and myself. I came out of the experience more sure of myself. I came out of the experience less sure of the assumptions I had always held about the world around me. PChange was truly the bedrock on which my entire Duke experience was built.
After that first year, I was involved with every following year of PChange, and no two have been alike. Now I'm headed into my fifth consecutive experience with Project Change, and I couldn't be more excited. Coming from a religious, Southern background, Project Change can be likened to a revival for me. At the beginning of the year I get to spend a week thinking about things like privilege, leadership, justice, and community engagement and I leave ready to be a bright light for progress. Then school starts and the work I want to get done is covered up by projects. I'm able to get some things done and certainly the mentality of PChange goes with me everywhere, but I always want to do more.
I'm hoping that this year will be different. This year I have the opportunity to become engaged and passionate and ready to do good work, and for the first time I'm not going back to student life. I'm helping administer this program as part of my position, and I'll still be in the same position after PChange ends. My imperative as a fellow is to think critically about the world around me and make strides for a more ethically engaged world—after next week I'll still have the chance to do that.  So, I'm going to have a busy next week, but it's just the harbinger of a busy, productive year.
-Nathan